Expanding Palliative Care: Samaritan Hospital Introduces Palliative Care Team to Help Seriously Ill Patients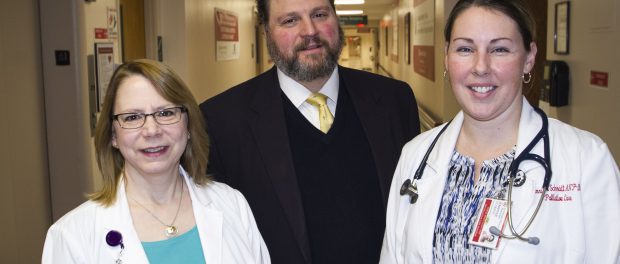 As part of St. Peter's Health Partners' (SPHP) expanding Palliative Care Partners service line, Samaritan Hospital is the latest to implement a palliative care team to serve patients in the Troy and Rensselaer County area communities.
Palliative care offers specialized medical care for seriously ill patients to relieve them of the symptoms, pain, and stress of living with serious illness. Palliative care patients suffer from serious or chronic illnesses, such as cancer, congestive heart failure, chronic obstructive pulmonary disease, kidney failure, Alzheimer's, Parkinson's, and ALS.
Through support primarily from The Community Hospice Foundation, SPHP has been offering palliative care services at St. Peter's Hospital for several years; and at Ellis Medicine, which partially funds its program in Schenectady. Last year, the team at St. Peter's also began seeing patients at Albany Memorial for palliative care consults, as needed.
Now, Samaritan Hospital has introduced a palliative care team in Troy. The goal is to deliver palliative care earlier in the disease progression to provide that added layer of support that patients and families need, from the point of diagnosis of a serious illness through end-of-life. Palliative care helps improve the quality of life for patients and their families, whatever their diagnosis, by providing them the additional support needed.
"There is mounting evidence that the addition of palliative care services results in less symptom distress, improved patient survival, and decreased family stress," said Michelle Mazzacco, executive director and vice president of Eddy Visiting Nurse Association, The Community Hospice, and Palliative Care Partners. "Patients can benefit from palliative care at any age and at any stage of an illness. Palliative care is also provided along with curative treatment."
Palliative care patients can experience a wide range of symptoms, including pain, shortness of breath, fatigue, constipation, nausea, loss of appetite, difficulty sleeping, and depression. The interdisciplinary team works together with the patient's community physician to not only treat the pain and other symptoms, but to help patients and their families understand the illness and make informed decisions about care.
Dr. Justin Porto, medical director of palliative care at Samaritan said sometimes more is not necessarily better. There are times when treatment no longer benefits patients and can do more harm than good, he added. Dr. Porto explained that when all the medical interventions still do not result in the desired outcome, his team talks with patients on how to do more for them in a different way and ensure that their other goals are being met."
Samaritan's palliative care team also includes Jennifer Schmidt, a nurse practitioner who is board-certified in hospice and palliative care; Mary Myers, a registered nurse; Chris Webber, a social worker; and spiritual care to broaden the support needed by patients.
"Based on the need we have seen in our communities, we plan to further expand palliative care and at least triple the number of patients reached by our palliative care specialists, including special populations, such as patients at our cancer treatment centers, several primary care practices, and in the home care setting down the road," said Mazzacco. "Palliative care is the single, largest opportunity to improve health care for people living with serious illness and their families. The need is there."