Mom Gives Back to NICU with "Brinley's Bags"
Erin Tarbox is a proud mother of two children with two very different birth stories. Her first pregnancy was easy, and she expected her second would be the same. That was until she developed severe pre-eclampsia.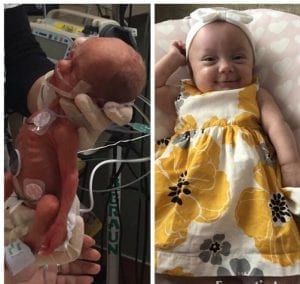 Despite having no previous history of high blood pressure, and no family history, Erin was diagnosed with the condition in her 29th week of pregnancy. She was immediately admitted to St. Peter's Hospital. Her doctor was hoping to get her to 32 weeks gestation, but Erin's body would not cooperate. At 30 weeks, her blood pressure only got worse, climbing to 225/110. Her doctor performed an ultrasound and determined the baby was under so much stress that the only way to save her was to deliver.
Erin was rushed in for an emergency C-section, and on April 17, 2018, her daughter Brinley was born.
"I was shaking and just a wreck," Erin said. "It was crazy, but when you're in it, you just do it. You don't have a choice."
Brinley's growth was restricted in utero because of Erin's extremely high blood pressure. She weighed just under two pounds at birth and spent the next 60 days in the Neonatal Intensive Care Unit (NICU) at St. Peter's Hospital.
"The NICU is like a secret club you never wanted to be a part of, but all of a sudden, you're in it," Erin said.
Those months were not easy for Erin, or for Brinley. Brinley had several health setbacks, including intestinal infections. Erin went to visit her in the NICU every day, and spent endless hours holding and comforting her premature daughter. She never wanted to leave, and sometimes that meant sacrificing her own basic needs.
"There were times when I thought, 'I would love to have water and maybe some snacks or candy. And I always wanted to brush my teeth'," Erin said.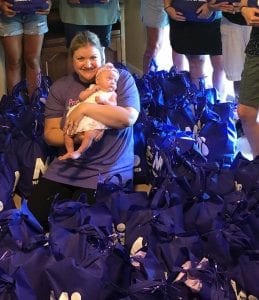 It was from this realization that the idea of Brinley's Bags was born. Erin decided she wanted to make care packages for other families in the NICU as a way of giving back. Once she and Brinley were home, she joined forces with the March of Dimes to set the ball rolling. In late summer, she reached out to friends on Facebook, seeing if anyone would like to contribute items for the bags. She was overwhelmed by the response.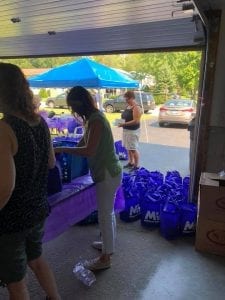 "I couldn't believe the support," Erin said. "It was amazing. People would go on Amazon and send me boxes of supplies. My garage is still full."
It was in that garage in early September that 25 of Erin's friends gathered to assemble the first batch of gifts. They packed 110 bags with items Erin thought she would have liked to have during her days visiting the NICU: Hand sanitizer, lotion, toothbrushes, mouthwash, tissues, protein bars, candy, lip balm, and gum. Also included in every bag are pens, a journal, and a Dunkin' Donuts gift card.
The most important item to Erin is a personal note from her and her husband, Chris, about Brinley's story. The two parents share all the feelings they felt during that frightening time, as well as advice they have for other families going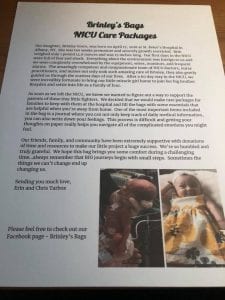 through it.
"When I was going through this, I would have loved to have a note from another mom who had a positive outcome," Erin said. "I just hope it gives people hope and the bag provides them some relief."
Their advice for other families: Have faith. Ask questions. Be your child's advocate, and know that you can get through this. Especially timely advice, as November is National Prematurity Awareness Month.
Erin delivered the latest batch of Brinley's Bags to St. Peter's Hospital on Nov. 9 — a good thing, too, as the NICU is nearly full.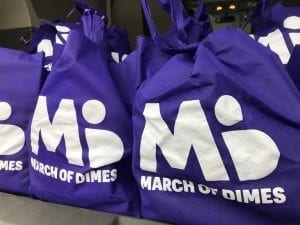 "I can't say enough about Brinley's Bags," said Sandra Michael, RN, BSN, SNT, MST, CLC, manager of community integration and lactation services at St. Peter's Hospital. "This effort means so much to the families who receive them. It's comforting to them to have someone who has gone through a similar experience share their story and give them hope. They're also so thankful to have supplies at such a needed time."
As for Brinley, she is now a smiling, active, six month old, and is thriving. As Erin looks back on their journey, she is just grateful her daughter is healthy and that she is able to give back in some small way.
"Sometimes the things you can't change, change you," Erin said. "This totally changed my outlook on life. Anything I can do to repay and give back, I am so happy to do."
About St. Peter's Hospital Birthing Center
St. Peter's Hospital received the 2018 Women's Choice Award as one of America's Best Hospitals for obstetrics for the fourth consecutive year. This follows 2017's recognition as an international "Baby-Friendly" hospital, with St. Peter's being the first in the Capital Region to earn the designation.
For information on delivering a baby at St. Peter's Hospital, as well as information on parenting classes, infant care, breastfeeding, the NICU, or placental donation, please call 518-525-1388 or visit http://www.sphp.com/womens-childrens-sph