Northeast Health Foundation is now Samaritan Hospital & The Eddy Foundation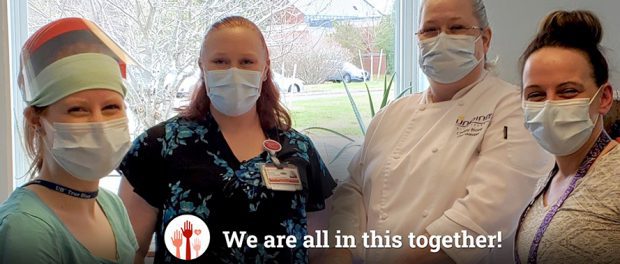 On July 1, 2022, the Northeast Health Foundation officially adopted a new name and is now doing business as Samaritan Hospital & The Eddy Foundation. The foundation is still supporting the same programs and services it always has at both Samaritan Hospital and The Eddy, both members of St. Peter's Health Partners. The new name now more closely aligns with the Mission of the foundation.
The Samaritan Hospital & The Eddy Foundation was created to attain funds and other resources to support the delivery of high-quality health care and other related services, like supportive housing, in the Capital Region. As needs are identified and prioritized, foundation representatives work closely with community partners and individual donors to raise the funds to complete those projects.
Long-standing donors can rest assured that all donations previously made to the Northeast Health Foundation will be earmarked for projects and services at Samaritan Hospital and The Eddy.
New gifts of any size help the foundation meet the growing needs of the community. All gifts can be designated to an affiliate of choice. Contributions come from leadership or planned gifts, annual fund campaigns, grants, and special events. Gifts are tax deductible, as allowed by law.
For more information on giving opportunities or to learn more about Samaritan Hospital & The Eddy Foundation, visit givetosamandtheeddy.org or call 518-482-4433.
About Samaritan Hospital
Samaritan Hospital, like all of St. Peter's Health Partners, is committed to improving the health and wellbeing of our community. It is a 277-bed community hospital offering inpatient and outpatient care including emergency services, critical care and ambulatory surgery, cancer services, behavioral health services, and cardiac catheterization. In 2018, St. Peter's Health Partners completed a major construction project modernizing its facilities, including a new patient pavilion with an expanded emergency department, ICU, PCU, Med/Surg units, and a new parking garage.
About The Eddy
The Eddy began in 1928 as a 19-bed nursing home in Troy, NY, established by Elizabeth Hart Shields Eddy with funds bequeathed by her husband, James A. Eddy. Since then, The Eddy has built on a tradition of safety, care, and comfort to become a nationally recognized leader in compassionate, high quality senior services.
Today, The Eddy is a comprehensive continuum of healthcare, supportive housing and community services that reaches 22 counties and serves more than 40,000 people yearly. Eddy services help maximize independence, quality of life and dignity of individuals, and help prevent the premature institutionalization of chronically ill, frail, or disabled seniors. For active and independent seniors, The Eddy offers safe, beautifully appointed senior living communities. For more information, visit https://www.eddyseniorliving.com/.
About St. Peter's Health Partners
With nearly 11,000 employees in more than 185 locations, St. Peter's Health Partners is one of the Capital Region's largest and most comprehensive not-for-profit integrated health care networks, and provides high-quality, compassionate, and sophisticated care to thousands of people every day. St. Peter's Health Partners is a member of Trinity Health, one of the nation's largest Catholic health systems. For more information, please visit www.SPHP.com.