NYSP Investigator and Walmart Help Replace Stolen Gift Cards Intended for St. Peter's Cancer Care Patients
Who is Santa Claus? Many would say he is a person who embodies the true spirit of Christmas: Love, bringing joy to people, taking care of others, especially those who are most in need.
St. Peter's Hospital Cancer Care Center has a Santa Claus and his name is Thomas Burns. Burns is an investigator with the New York State Police. He may not be delivering presents to kids all over the world, but with help from Walmart, he has just delivered a very meaningful gift to a group of cancer patients. Thanks to Investigator Burns' determination and kindness, Walmart has donated $900 in gift cards to St. Peter's Cancer Care Center to replace gift cards that were stolen last year.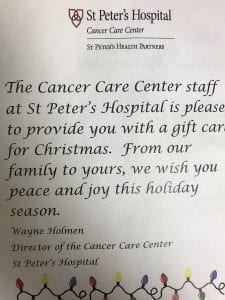 In 2017, the St. Peter's Cancer Care Center team spent more than six months raising money and purchased $975 in Walmart gift cards for thirteen oncology patients facing economic hardship. But those patients never received the gift cards, which were stolen shortly after they were mailed out, just weeks before Christmas. The center's staff members, who worked so hard raising the funds, were heartbroken.
Frank Koehler, security manager for St. Peter's Health Partners, reported the theft to the New York State Police. With help from Investigator Burns, they were able to track the stolen cards, and discovered they were used at three area Walmart stores – in Albany, Brunswick, and Latham. Unfortunately, there was not enough evidence to make an arrest.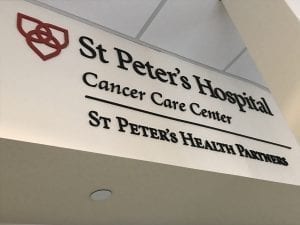 Even though Investigator Burns was not able to identify the Grinch who stole the gift cards, he made it his mission to ensure the kindness of others was not erased by the greed of another. After officially closing the case earlier this month, Investigator Burns called Walmart and encouraged the three area stores to donate a new round of gift cards in time for this holiday season. They agreed, and together donated $900 in new gift cards. The St. Peter's Hospital Cancer Care Center plans to distribute the cards to seven of the original patients. Sadly, since the theft last year, six of the intended recipients passed away.
Anne Lawton, RN, community liaison for the St. Peter's Hospital Cancer Care Center, spearheaded the initial fundraising effort. She was devastated by the theft, but never gave up hope that the wrong would be made right.
"While the gift cards are not a lot, they help defray some of the holiday costs for patients who are already facing financial distress," Lawton said. "That Investigator Burns cared enough to do what he did is amazing. He went above and beyond the call of duty for something that probably seems so small, yet is so big."
"Anne was so upset," Investigator Burns recalled. "I said to one of the managers at Walmart, 'if we can't solve this, we can at least try to help them.' I knew how much it would mean to the folks at St. Peter's if we did."
And he was right. Meredith Robison, director of oncology services at St. Peter's Health Partners, expressed her gratitude.
"It's such a great feeling knowing that these patients will have that extra bit of help during the holidays," Robison said. "It serves as a reminder to all of us, especially at this time of year, that there is good out there. We are so grateful to Investigator Burns and the New York State Police and to Walmart for all of their help."
For Investigator Burns, the experience has left an indelible mark.
"The job that I do is not always easy," Burns said. "I meet people often at the worst moments in their lives, and it doesn't always feel good. It's nice when we can do something that helps others. That feels good."
Who is Santa Claus? Sometimes, he is one of us.