Samaritan Hospital Awarded Accreditation in Nuclear Cardiology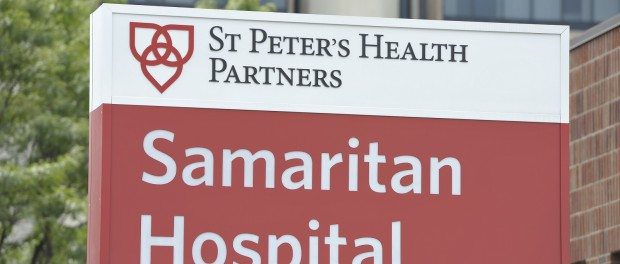 Samaritan Hospital, a member of St. Peter's Health Partners – the region's largest health system – has been awarded nuclear/PET (positron emission tomography) accreditation by the Intersocietal Accreditation Commission (IAC).
Samaritan received the accreditation award in "myocardial perfusion imaging and equilibrium radionuclide angiography" after undergoing a thorough review by a panel of expert in its operational and technical components. The IAC only grants accreditation to those facilities that are found to be providing quality patient care, in compliance with national standards through a comprehensive application process that includes detailed case study reviews. Samaritan's is one of only 24 hospital-based nuclear cardiology programs in New York state to receive the three-year award.
"This is an incredible achievement and I am very proud of the commitment of both our physicians and our staff," said Norman E. Dascher, chief executive officer of Samaritan and St. Mary's hospitals, and vice president of acute care Troy for St. Peter's Health Partners. "We strive continuously to provide the highest quality care possible for patients and I am so grateful for their dedication and efforts on behalf of those we serve."
According to the IAC, cardiovascular diseases are the number one cause of death in the United States. On average, one American dies every 39 seconds of cardiovascular disease – disorders of the heart and blood vessels. The American Heart Association reports that the total direct and indirect cost of cardiovascular disease and stroke in the U.S. for 2010 was an estimated $503.2 billion dollars.
Nuclear cardiology procedures performed at quality accredited facilities like Samaritan Hospital enable the early detection of life-threatening heart disorders and other diseases. An accurate diagnosis, the type of equipment used, the knowledge of the interpreting physician and skill of the technologist performing the examination, are all critical components to quality patient testing.
IAC accreditation is a "seal of approval" that patients can rely on as an indication that the facility has been carefully critiqued on all aspects of its operations considered relevant by medical experts in the field of nuclear cardiology. Launched more than 20 years ago, the Intersocietal Accreditation Commission works in concert with more than 15,000 sites throughout the U.S. and Canada today to provide a pathway for documenting quality patient care. For more information on the IAC, please visit http://www.intersocietal.org/nuclear/.