SPHP Screens Five Dozen Albany Firefighters During Free Cancer Screening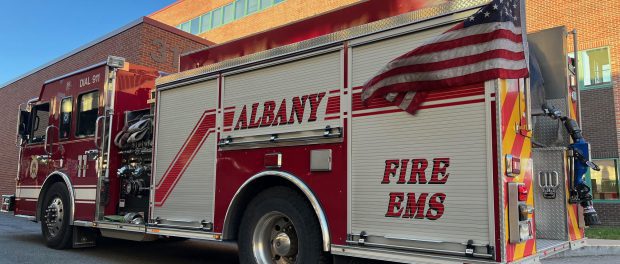 Fighting fires is unquestionably a dangerous job. But it's not just the flames that pose a serious threat to the health of firefighters; the chemicals they encounter and inhale are equally as deadly. Many of these chemicals are known to or suspected to cause cancer, which the CDC says is a leading cause of death among firefighters. According to the International Association of Fire Fighters, cancer caused 66 percent of the career line-of-duty deaths from 2002 to 2019.
On December 10, St. Peter's Health Partners (SPHP) held a free screening for the City of Albany Fire Department to raise awareness of this risk. The screening was part of a pilot program SPHP launched earlier this year in conjunction with Capital Region Urology, a practice of St. Peter's Health Partners Medical Associates.
SPHP medical providers, including Jonah Marshall, M.D., Theodore Chang, M.D., Harrison Miller, PA-C, and Linda Abriel NP, along with nurses and ultrasound techs, volunteered their time to screen firefighters for a variety of cancers including bladder, kidney, testicular, and prostate. They provided kidney ultrasounds; rectal, testicular, and thyroid exams; blood pressure checks; and measured BMI (body mass index). In addition to cancer, they used the screening to look for signs of heart disease, or other abnormalities that could indicate a health problem in need of immediate treatment, or one that might need to be monitored in the future.
Of the 60 men screened, 16 were found to have hematuria (blood in the urine); 27 had high blood pressure; one had an abnormal lung exam; one had kidney stones; and one had an abnormal testicular exam. Many did not have primary care physicians and were connected with one following their screening.
Firefighters are exposed to hundreds of different chemicals on the job. Some are the byproducts of combustion or burning; others come from the materials that are burning. Firefighters breathe these chemicals in, and can also get them on their skin, in their eyes, or ingest them. Reusing contaminated personal protective equipment can also lead to additional exposure. As a result, every time men and women fight a fire, they are exposed to these carcinogens and increase their risk for bladder, testicular, prostate, kidney, colon, lung, and head and neck cancers, as well as melanoma.
Dan Willey, exec. board, Albany Firefighters Local 2007, says the Albany Fire Department has suffered an exorbitant number of cancer illnesses and deaths over the years. He stressed the importance of the cancer screening, particularly for the department's younger men.
"When you're hired in your early 20s, you're not really thinking about your twenty- or thirty-year-career and what can happen through the evolution of that career," said Willey. "But cancer is ever-present in today's firefighting community. The only way to survive cancer is to get that early detection and this is by far the best tool provided to us and I want to thank St. Peter's for reaching out and making this happen."
The pilot program was spearheaded by Dr. Marshall in conjunction with SPHP's Cancer Care Center. Dr. Marshall says he became aware of the increased risk after treating three firefighters for various types of cancer. All three were from the same fire department in Cohoes.
"It's surprising that the number of urologic malignancies is actually extremely high among firefighters, including renal, bladder, testicular, prostate cancers," explained Dr. Marshall. "These are young, healthy men in their 20s, 30s and 40s. I think it's really important. These are men and women who are out putting their lives on the line for us and it's crucial that we look out for them."
SPHP plans to screen another 80 members of the Albany Fire Department in the coming weeks and is in discussion to expand the program to other cities throughout the Capital Region.
January is Fire Fighter Cancer Awareness Month.