St. Peter's Health Partners and Ellis Medicine Sign Letter of Intent to Explore Partnership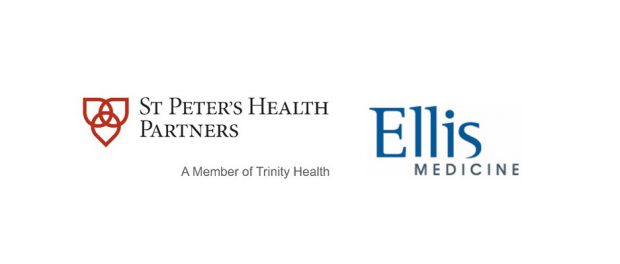 St. Peter's Health Partners (SPHP), a member of Trinity Health, and Ellis Medicine have signed a letter of intent to examine the joining of both health care systems.
The letter of intent builds on a long-existing relationship between the two health care systems. SPHP and Ellis Medicine have worked closely for years on many initiatives including the Innovative Health Alliance of New York (IHANY) and The Alliance for Better Health, and – together with other health care systems across the region – have worked in concert throughout the COVID-19 pandemic to provide a coordinated response to best care for and protect the community.
The signing is a preliminary commitment to a joint affiliation and the first step in a careful review process. Work to develop a partnership structure has begun and will continue over the next several months. A final agreement will require approval by the boards of trustees of both organizations, as well as state and federal regulatory agencies.
"These discussions should not come as a surprise. As health care institutions, we are always looking at how to best improve care for the communities we serve," said James K. Reed, M.D., president and CEO of SPHP. "Partnering with Ellis is the natural evolution of our already strong relationship and will allow us to expand and enhance the availability of high-quality health care services in the Capital Region. We anticipate the community will see more and even better care as a result of this partnership."
"Ellis is extremely proud of our people, the level of care we provide, and the community we serve," said Paul A. Milton, president and CEO of Ellis Medicine. "We chose to sign this letter of intent because of the tremendous medical expertise and resources SPHP brings to complement the quality care Ellis already offers our community. As we explored potential partners, St. Peter's expressed a willingness to make a long-term commitment to local communities, while respecting the heritage of all the institutions that make up Ellis Medicine."
Both Ellis and SPHP share a vision for a more fully integrated, region-wide approach to care that aims to improve the health of its neighbors; embraces new models such as value-based care; and lowers overall health care costs for the community. Both systems have been working toward this shared vision collaboratively since 2014 when they formed the Innovative Health Alliance of New York (IHANY) – the Capital Region's first Clinically Integrated Network.
Since its inception, IHANY has had many successes, including lowering the cost of care for both Medicare and Medicaid – the two key populations on which it is focused. IHANY was also ranked #1 among 36 other New York State CMS Medicare Shared Savings Program Accountable Care Organizations (ACO) for 2019 Quality Performance and is the top ranked ACO in quality scores across Trinity Health.
"Looking at the past several years, SPHP and Ellis have proved that together we can have a meaningful impact on cost and quality, which inevitably leads to improved access to care," said Dr. Reed.
"Ellis and SPHP are among the leaders in health care in our region," Milton said. "As leaders, we always look ahead with a focus on what's best for the long-term health of our communities and evaluate how we are delivering care today and how care can best be delivered in the future. We owe it to the people of the Capital Region to do so. This letter of intent is the next step in our ongoing evolution."
About Ellis Medicine
Ellis Medicine is a 438-bed community and teaching healthcare system serving New York's Capital Region. With five campuses — Ellis Hospital, McClellan Street Health Center, Bellevue Woman's Center, Mohawk Harbor and the Medical Center of Clifton Park — 3,300 employees and more than 700 members of its medical staff, Ellis Medicine is proud to provide a lifetime of care for patients. Ellis offers an extensive array of inpatient and outpatient services — including cardiac, cancer, emergency, neuroscience, and women's services. For more information, please visit http://www.ellismedicine.org/.
About St. Peter's Health Partners
With more than 12,000 employees in more than 185 locations, St. Peter's Health Partners is the Capital Region's most comprehensive not-for-profit integrated health care network, which provides high-quality, compassionate, and sophisticated care to thousands of people every day. St. Peter's Health Partners is a member of Trinity Health, one of the nation's largest Catholic health systems. For more information, please visit www.sphp.com.
About Trinity Health
Trinity Health is one of the largest multi-institutional Catholic health care delivery systems in the nation, serving diverse communities that include more than 30 million people across 22 states. Trinity Health includes 92 hospitals, as well as 106 continuing care locations that include PACE programs, senior living facilities and home care and hospice services. Based in Livonia, Michigan, the organization returns $1.2 billion to its communities annually in the form of charity care and other community benefit programs. Trinity Health employs about 125,000 colleagues, including about 7,500 employed physicians and clinicians. For more information, visit www.trinity-health.org.