Dr. Sarah Pesek a Recipient of '40 Under 40 in Cancer' Award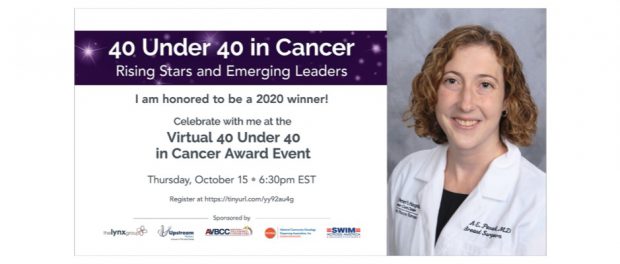 St. Peter's Health Partners would like to congratulate Sarah Pesek, M.D., of St. Peter's Breast Surgery, who has been selected as a recipient of the 40 Under 40 in Cancer Award!
The award recognizes contributions being made across the field of cancer by rising stars and emerging leaders under the age of 40. In receiving the award, Dr. Pesek was recognized as one of the nation's most promising young oncology professionals whose contributions have helped to improve the lives of those affected by cancer.
Fellowship-trained in breast and plastic surgery, Dr. Pesek is one of two dedicated breast surgeons at St. Peter's Breast Surgery. The practice, part of St. Peter's Health Partners Medical Associates, offers a full range of services for women with breast cancer, benign breast concerns, and those at high risk of developing breast cancer. The practice specializes in advanced options for breast conservation, utilizing plastic surgery techniques and state-of-the-art reconstruction after mastectomy.
The 40 Under 40 in Cancer Award is sponsored by The Lynx Group, Upstream Partners, Association for Value-Based Cancer Care, NCODA, and Swim Across America. An online awards ceremony will be held on Thursday, October 15, honoring Dr. Pesek and other recipients.
Congratulations!