St. Peter's Health Partners Challenges Troy Community to "Take a Stand" Against Sexual Violence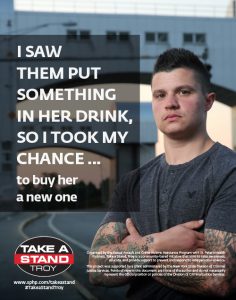 The Sexual Assault and Crime Victims Assistance Program (SACVAP), a member of St. Peter's Health Partners, is launching a new initiative to help prevent and respond to interpersonal violence in Troy and across the Capital Region.
Centered around seven posters featuring well-known members of the Troy community, in combination with training for employees of local businesses, the "Take a Stand, Troy" initiative aims to raise public awareness about the power of bystanders to create a culture in which interpersonal violence is not tolerated.
The posters, unveiled today at The Broken Mold Studio in Troy, will be hung at businesses that choose to join the initiative and which have completed training sessions provided, for free, by SACVAP.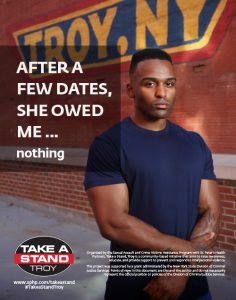 The posters challenge community members to "Take a Stand," and announce that interpersonal violence is not welcome in our community. Situations described on the posters include:
"When a girl is out dressed like that, she deserves … to get home safely"
"I saw them put something in her drink, so I took my chance … to buy her a new one"
"After a few dates, she owed me … nothing"
SACVAP is encouraging any and all local business to join the "Take a Stand, Troy" initiative. In the free training offered to local businesses by SACVAP, employees will gain the knowledge and tools necessary to identify and respond to situations where the well-being of a patron may be in question. Participating businesses will receive posters, drink coasters, informational materials, and other materials related to the initiative.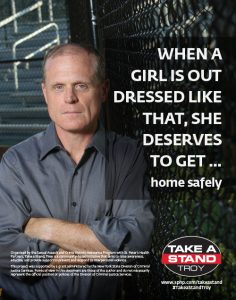 "It takes a community to stop sexual violence," said SACVAP Director Lindsey Crusan-Muse. "'Take a Stand, Troy' inspires people in our community to look out for one another, to speak up, and to find safe ways to respond to situations that occur in our city. By raising awareness and providing education we strengthen our commitment to creating a culture in which sexual assault and other forms of interpersonal violence are not tolerated."
Businesses interested in learning more or scheduling a training session should contact Sandy Stopera at Sandra.stopera@sphp.com or 518-271-3006.
More information can be found on the SACVAP Facebook page: facebook.com/sacvap
On social media, posts related to the initiative will be tagged with: #TakeAStandTroy
The "Take a Stand, Troy" initiative is supported by a grant administered by the New York State Division of Criminal Justice Services.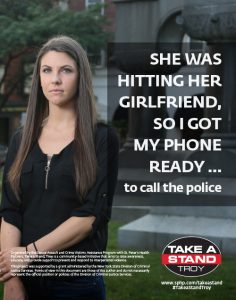 About The Sexual Assault & Crime Victims Assistance Program at Samaritan Hospital
The Sexual Assault and Crime Victims Assistance Program, a member of St. Peter's Health Partners, is the only agency in Rensselaer County to provide specialized services, including education, prevention and crisis care 24 hours a day, seven days a week to sexual assault survivors and crime victims, and their families and friends. All services are free and confidential. The program also offers a 24-hour hotline for individuals in need, 518-271-3257. The program is located on the campus of Samaritan Hospital, an affiliate of St. Peter's Health Partners.