St. Peter's Health Partners Nurse Receives International Nursing Award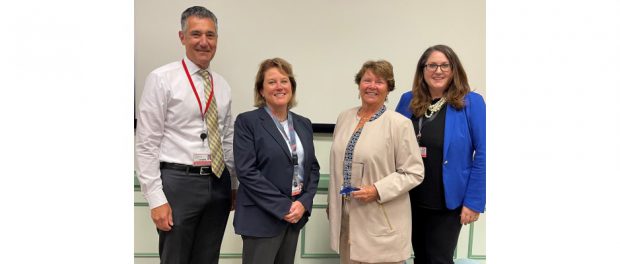 The International Association of Forensic Nurses (IAFN) honored Nancy A. Harris, NP-C, NYSAFE, SANE-A, SANE-P, with its prestigious Distinguished Fellow Award at a presentation held July 19 at Samaritan Hospital in Troy. Harris is a certified Sexual Assault Nurse Examiner (SANE) for adults/adolescents and pediatric victims and St. Peter's Health Partners' (SPHP) manager for medical regional child advocacy.
"Through her vast experience and commitment to both patients who have experienced violence and her own colleagues, Nancy has become an invaluable source of knowledge in forensic nursing," said Ashley Stewart, MSN, BScPN RPN, SANE-A, SANE-P, IAFN President. "As she studied to advance her career, Nancy grew more passionate about caring for victims of violence and sharing her knowledge with other nurses in New York and throughout the country, with the ultimate goal of improving care for patients. This award recognizes her depth of knowledge and achievements that have advanced the specialty of forensic nursing."
A forensic nurse is a registered nurse who provides comprehensive care to victims of violence while demonstrating competency in conducting a medical forensic exam. This includes evaluation for evidence collection; providing effective courtroom testimony; and showing compassion and sensitivity towards survivors of violence.
Harris, a certified nurse practitioner, has been involved since the inception of the St. Peter's Forensic Examiner Program in the 1990s, working over the years to expand the program to offer domestic violence/intimate partner violence exams and develop the program as the leading SANE/SAFE training site in New York state. Today, the program cares for more acute forensic patients annually than any other hospital in New York state.
More recently, she founded SPHP's robust TeleSAFE program, which benefits participating New York state hospitals and their communities by having expert SANE nurses guide the bedside emergency nurse in the care of the sexual assault patient. She has co-authored a pediatric SANE training program and developed SPHP's didactic and clinical adult/adolescent SANE training program. In her current role, she has also worked to increase access to SANEs in child advocacy centers throughout New York state and has recruited SANEs to provide expert care to abused children in 25 rural counties throughout the state.
"Nancy has been a pioneer in the profession of forensic nursing. She is a true innovator, who works collaboratively to identify and implement solutions to ensure that all survivors of violence have access to trauma-informed, thorough medical care," remarked Lindsey Crusan-Muse, director of St. Peter's Crime Victim Services. "We couldn't be prouder of all she has accomplished and the positive impact her work has had on our patients."
"Throughout her exemplary career, Nancy has been a stalwart advocate for victims and a passionate educator and leader for our colleagues," said Kim Baker, senior vice president, hospital operations, SPHP. "This award is an incredible honor and is a fitting tribute to Nancy and the impact she has had in the field of forensic nursing."
A native of Troy, Harris received a Bachelor of Science in Nursing and a Master of Science, Adult Nurse Practitioner from Sage Graduate School.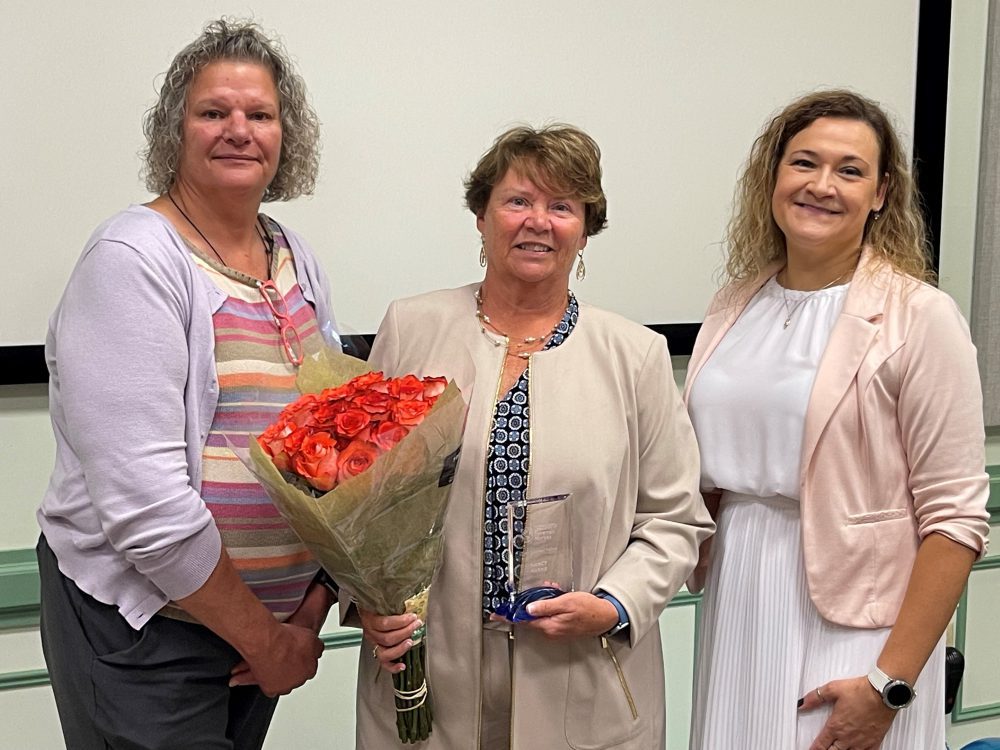 About St. Peter's Health Partners
With 11,000 employees in more than 170 locations, St. Peter's Health Partners is one of the Capital Region's largest and most comprehensive not-for-profit integrated health care networks, and provides high-quality, compassionate, and sophisticated care to thousands of people every day. St. Peter's Health Partners is a member of Trinity Health, one of the nation's largest Catholic health systems. For more information, please visit http://www.sphp.com/. To view a list of job opportunities throughout Trinity Health, please visit https://www.trinity-health.org/join-our-team/.
About St. Peter's Crime Victim Services
St. Peter's Crime Victim Services, based at Samaritan Hospital in Troy, has a mission to reduce the incidence and trauma of all crimes through person-centered emotional support, advocacy, medical and legal assistance, and community-based prevention efforts. It is the most comprehensive program serving victims and survivors of crime in the Capital District, offering prevention education, and 24-hour access to forensic medical care, crisis intervention and counseling for victims of crime and violence.
St. Peter's Crime Victim Services also provides no cost  therapy, counseling, support group, and legal advocacy services to individuals impacted by unhealthy or abusive relationships. For more information, please visit our website at sphp.com/crimevictimservices. The program also offers a 24-hour hotline for individuals in need, 518-271-3257.
About International Association of Forensic Nurses
The International Association of Forensic Nurses is a professional organization of more than 6,000 nurses from 25 countries who provide specialized healthcare for patients impacted by violence and trauma. The Association establishes the standards of practice for forensic nursing; defines and advances the global research agenda to enhance forensic nursing's evidence-based response; develops, promotes, and disseminates information about forensic nursing science; and serves as a global network for forensic nurses to exchange ideas, serve as mentors, and enhance their practice. Additionally, the Association offers board certification for sexual assault nurse examiners who care for Adult/Adolescent (SANE-A®) and Pediatric/Adolescent (SANE-P®) patients. For more information, visit www.forensicnurses.org