St. Peter's Hospital Hosts Heart Recovery Reunion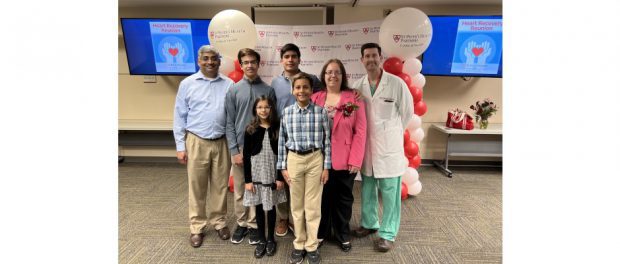 On Thursday, May 25, St. Peter's Hospital, an affiliate of St. Peter's Health Partners, held its first-ever Heart Recovery Reunion. The emotional event reunited two cardiac surgery patients with the team of health care professionals who saved their lives.
"Our cardiovascular teams – including our surgeons, physician assistants, nurses, patient care techs, and pharmacy colleagues – save lives every day in our hospital but rarely do they get the chance to see the patients they help save after they've recovered," said Thea Dalfino, M.D., chief medical officer for St. Peter's Health Partners Acute Care. "Being able to bring everyone together and see these patients reunited with their families reinforces why we do what we do."
"These patients have overcome challenging cardiovascular conditions and regained their quality of life," remarked J.D. Filippone, M.D., chief of cardiology at St. Peter's Hospital and a cardiologist with Albany Associates in Cardiology (AAC), a practice of St. Peter's Health Partners Medical Associates. "Their success stories inspire us to continue to strive for excellence and to raise the bar for cardiac medicine in the Capital Region."
For 49-year-old Marija Sebastian, the opportunity to reunite with her care team was one she didn't think she'd have.
"I never got to say goodbye to the nurses and many of the doctors who helped me," said Sebastian. "I am so grateful to have the chance to thank them in person for not only saving me, but also for being there for my husband and kids. They kept them updated
every step of the way. At a time when my family thought they might lose me, that communication and compassion really meant the world to me and always will. I owe them my life."
Sebastian, a former resident of Niskayuna, currently lives in New Jersey with her husband and four children, ages 10, 14, 16, and 19. On January 7, 2023, Sebastian was traveling back to the Capital Region with her 16-year-old son so he could teach ski lessons at Maple Ski Ridge in Rotterdam. While entering their hotel lobby, Sebastian fainted. After collapsing a second time, she was brought by ambulance to St. Peter's Hospital.
Sebastian went into cardiac arrest in the emergency department where it was discovered that a massive pulmonary embolism was stopping her heart from pumping. Doctors would revive her a total of five times.
In order to restore function to Marija's heart in preparation for surgery, Dr. Colin Hirst, a structural and interventional cardiologist at St. Peter's Hospital who practices with Dr. Filppone at AAC, brought her to the catheterization lab for emergent aspiration thromboectomy assisted by an Impella RP device. The device, made by Abiomed, Inc., is a temporary heart pump installed through the femoral vein that provides circulatory support for patients who develop right side ventricular failure. This allowed Sebastian's heart to resume pumping so Dr. Hirst and the cardiovascular surgical team could successfully remove the clot and repair existing damage.
After a short stay in the hospital, Sebastian returned home to her family in New Jersey, just in time for two of her children's birthdays. She has since recovered from the procedure and just completed her first overseas work trip since the January incident.
Dr. Hirst calls Barbara Echtner his 'Christmas miracle.' On December 21st, Dr. Hirst was supposed to be out of town, but his flight was canceled due to bad weather. He was called in to assist in Echtner's case and ultimately helped save Barbara's life.
Echtner, a then 70-year-old farmer from Middleburgh, had been experiencing unusual fatigue in the days and weeks prior, followed by a spike in blood sugar. After developing a dangerously high heart rate, she suffered a heart attack and was diagnosed with multi-vessel disease and valvular heart disease. She ended up undergoing a triple bypass with a valve repair and had a pacemaker installed. Her post-operative care was complicated by persistent cardiogenic shock, which occurs when the heart suddenly cannot pump enough blood and oxygen to the brain and other vital organs.
Dr. Hirst was able to keep Barbara alive thanks to assistance from a combined procedure using the Impella RP, designed for right ventricular support, and the Impella CP with SmartAssist heart pump, designed for left ventricular support. Also made by
Abiomed, Inc., the Impella CP provides minimally invasive, temporary support for patients with heart failure or in cardiogenic shock resulting from a heart attack.
"These patients would not be alive today if it were not for the outstanding efforts of our entire multidisciplinary team here at St. Peter's," remarked Dr. Hirst.. "We are fortunate to have a state-of-the-art facility and access to cutting-edge technology like Impella, which, combined with the expertise of our skilled surgeons, physicians, and nurses, allow us to treat rare and complex cardiac conditions like Barbara's and Marija's."
"This event today is a testament to the unwavering commitment and genuine compassion to be found throughout St. Peter's," Hirst continued. "I hope this reunion of grateful hearts serves as an inspiration to everyone who walks our halls – colleagues, patients, and visitors alike – and is a reminder of the world-class, compassionate, life-saving care that is available here in the Capital Region."