Women's Choice Award Recognizes St. Peter's Hospital as Among Best in Nation for Six Specialties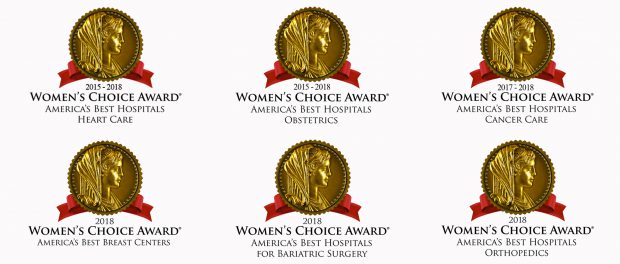 St. Peter's Hospital has received the 2018 Women's Choice Award as one of America's Best Hospitals for Obstetrics and Heart Care for the fourth consecutive year, Cancer Care for second consecutive year, and Orthopedics, Bariatric Surgery, and Breast Centers for the first time.
Based on thousands of surveys of women, in addition to other research including national accreditations, patient outcomes data, and Hospital Consumer Assessment of Healthcare Providers and Systems (HCAHPS) survey results, the Women's Choice Awards are unique in that they identify the country's best health care institutions based on female patient satisfaction, clinical excellence, and what women say they want from a hospital.
"This recognition from the Women's Choice Awards across multiple services and specialties would not have been possible without the hard work and dedication of our physicians, nurses, and colleagues," said Virginia Golden, president of St. Peter's Hospital and Albany Memorial Hospital. "Thank you and congratulations to everyone whose efforts, every day, result in positive outcomes and positive experiences for our patients."
St. Peter's Hospital received a 2018 Women's Choice Award in each of the following specialties and services:
St. Peter's Hospital, an affiliate of St. Peter's Health Partners, is the largest Catholic acute care community hospital in northeastern New York state. The hospital, founded in 1869 by the Religious Sisters of Mercy, is a not-for-profit community tertiary hospital with 442 beds, more than 900 physicians, and nearly 6,000 employees.
Learn more about St. Peter's Hospital at: www.sphcs.org
For more information about the Women's Choice Award, visit: http://www.womenschoiceaward.com/