Chicken Fajita Bowls – Skip the Tortilla, Not the Taste!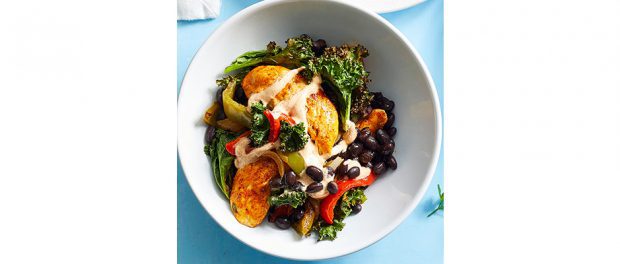 What better way to warm up on a chilly winter day than with a meal of warm fajita salad, filed with nutritious and delicious chicken, roasted kale, bell peppers and black beans? You won't even miss the tortilla!
This recipe comes courtesy of Eating Well, originally published in Diabetic Living Magazine, Fall 2019. Enjoy!
Sheet-Pan Chicken Fajita Bowls

Prep: 20 mins

Total: 40 mins

Servings: 4

Ingredients

2 teaspoons chili powder
2 teaspoons ground cumin
¾ teaspoon salt, divided
½ teaspoon garlic powder
½ teaspoon smoked paprika
¼ teaspoon ground pepper
2 tablespoons olive oil, divided
1 ¼ pounds chicken tenders
1 medium yellow onion, sliced
1 medium red bell pepper, sliced
1 medium green bell pepper, sliced
4 cups chopped stemmed kale
1 (15 ounce) can no-salt-added black beans, rinsed
¼ cup low-fat plain Greek yogurt
1 tablespoon lime juice
2 teaspoons water

Directions

Place a large rimmed baking sheet in the oven; preheat to 425 degrees F.
Combine chili powder, cumin, 1/2 tsp. salt, garlic powder, paprika, and ground pepper in a large bowl. Transfer 1 tsp. of the spice mixture to a medium bowl and set aside. Whisk 1 Tbsp. oil into the remaining spice mixture in the large bowl. Add chicken, onion, and red and green bell peppers; toss to coat.
Remove the pan from the oven; coat with cooking spray. Spread the chicken mixture in an even layer on the pan. Roast for 15 minutes.
Meanwhile, combine kale and black beans with the remaining 1/4 tsp. salt and 1 Tbsp. olive oil in a large bowl; toss to coat.
Remove the pan from the oven. Stir the chicken and vegetables. Spread kale and beans evenly over the top. Roast until the chicken is cooked through and the vegetables are tender, 5 to 7 minutes more.
Meanwhile, add yogurt, lime juice, and water to the reserved spice mixture; stir to combine.
Divide the chicken and vegetable mixture among 4 bowls. Drizzle with the yogurt dressing and serve.