LiveSmart: Acute Care for the Elderly (ACE) at Albany Memorial Hospital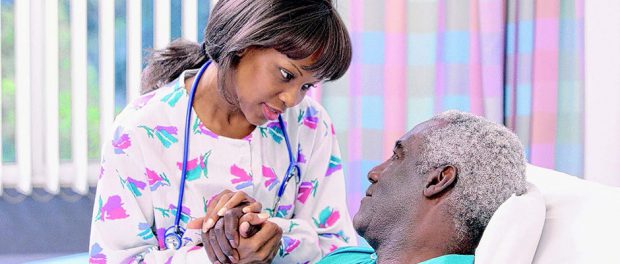 [This piece was written by Michael Burke, MD, CMD, MBA, Board Certified – Internal Medicine, Geriatrics, Hospice and Palliative Care, from the Acute Care for Elders (ACE) Center, St. Peter's Health Partners.]
A trip to the emergency room is anxiety-inducing for everyone, from the parents of an infant with a high fever, to the child with a possibly broken arm, to a senior who has taken a spill and is shaken up. But for seniors in particular, a visit to the emergency room, whether for an injury or illness, is often just the first step in a very long journey.
Typically older patients are hospitalized for common acute illnesses, for which they receive treatment and head home. For some dealing with the aftermath of stroke, surgery, or another life-altering event, recovery can look much different. Some may lose function and mobility during their hospital stay, and others may ultimately not return to their pre-hospitalization living situation.
At St. Peter's Health Partners, we recognize that enhanced senior hospital and emergency care is critical to meet the specific health care needs of the aging population in our communities. To that end, we have established an Acute Care for Elders (ACE) Center at Albany Memorial Hospital.
The multidisciplinary geriatric team at the ACE Center has one simple goal – to help elderly patients return to their normal living situations and routines. Our team of clinicians, physicians, nurses, dieticians, therapists, social workers, and pharmacists have extensive training in geriatric care, enabling them to work together to develop care strategies for an aging population.
In newly renovated space on the second floor of Albany Memorial Hospital, the ACE Center is designed to focus on the unique needs of elderly patients.
Private, single rooms to promote healing and wellness
Specialized walking environment to encourage mobility and preserve strength
Daily multidisciplinary rounds utilizing geriatric care principles to monitor functional needs of patients
Medication review to ensure proper dose and avoid complications
Discharge planning (begun upon admission)
Other support services as needed
The benefits to patients and their families are numerous, including:
Improved quality of care and outcomes
Improved function in activities of daily living (ADL)
Reduction of falls
Reduction of pressure ulcers
Reduction of medication-related adverse effects
More family/caregiver involvement
Upon admission at one of St. Peter's Health Partners' emergency departments at Albany Memorial, Samaritan, and St. Peter's hospitals, senior patients will be evaluated to determine if they meet the ACE admission criteria. Primary care physicians may also refer their patients to the ACE Center for treatment.
For questions on the ACE Center at Albany Memorial Hospital, please visit our website HERE.