LiveSmart: Eye Protection – Don't Overlook It!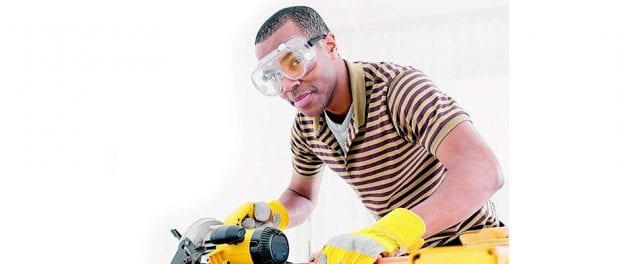 [This piece was written by Axel Herrmannsdoerfer, M.D., Medical Director for St. Peter's Health Partners Urgent Care.]
According to the Occupational Safety and Health Administration (OSHA), more than 2,000 eye injuries occur in the workplace every day, and at least 10 percent of them cause permanent or temporary vision loss. A sobering statistic, but one that is even more alarming when you add in the more than one million eye injuries that occur in and around the home each year, according to figures from the American Academy of Ophthalmology (AAO).
Obviously, eye protection is something more Americans should be thinking about when going about their daily lives at work and play. In fact, it is estimated the use of proper eye protection could prevent or at least lessen the severity of 90 percent of eye injuries.
In the workplace, there are subtle as well as obvious dangers. About 70 percent of documented eye injuries are related to flying particles or sparks striking the eye. Chemical splashes account for 20 percent of eye injuries.
At home, eye injuries can occur in a variety of situations including:
Using hazardous products and chemicals for cleaning and other chores. It is estimated that accidents involving common household products cause 125,000 eye injuries each year.
Cooking foods can that can splatter hot grease or oil.
Home improvement projects where screws, nails, or fragments become projectiles.
Loose rugs and railings that can cause falls or slips.
Flying debris when using outdoor power tools, such as lawnmowers, hedge trimmers, or edgers.
Any task in the garage or workshop that produces fragments, dust particles or other potential eye irritants.
Securing equipment or loads with bungee cords or tension straps.
The AAO recommends your home has at least one pair of American National Standards Institute-approved protective eyewear on hand for use during projects and activities that may present risk of injury.
Of course, there will still be occasions when accidents and injuries happen. When an eye injury does occur, have an ophthalmologist or other medical doctor at an urgent care or emergency department examine the eye as soon as possible, even if the injury seems minor at first.
St. Peter's Health Partners has six convenient urgent care clinics located throughout the Capital Region. Each urgent care is staffed with a team of specially trained professionals who respond to a wide range of illnesses and injuries for patients of all ages. Board-certified/eligible physicians, physician's assistants, nurse practitioners, and nurses all work together as a team to provide a patient-focused approach to health care. Digital medical imaging is available at all six locations.
St. Peter's Urgent Care also has "Skip the Wait," which allows you to check wait times at all six locations, select a location, and save your place in line before you head in. Visit SPHP.COM/UrgentCare for more information.