LiveSmart: Let's Give 'em Pumpkin to Talk About!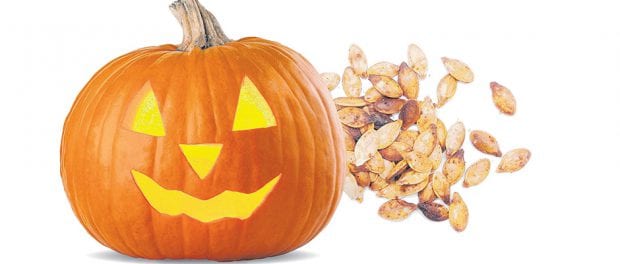 [This piece was written by Alexandra Cervini, MS, RD, CDN, Lead Dietitian for Samaritan Hospital, St. Peter's Health Partners.]
'Tis the season for changing leaves, spooky activities and everything pumpkin! Generally, when you think of pumpkins, you may think of jack-o-lanterns, pumpkin pie, or the infamous pumpkin spiced latte. However, pumpkins have a wide variety of benefits that many might not know about.
Pumpkin is a winter squash and, while it is technically a fruit due to its seeds, it nutritionally acts as a vegetable. Pumpkin can be used in soups, entrees, desserts – and it is downright delicious any way you slice it (pun intended!).
The nutritional benefits of pumpkin are many, including:
Beta Carotene
You know that glorious, vibrant orange color distinctive of pumpkin? That color is from beta-carotene, a red-orange pigment that is found in fruits and vegetables. Beta-carotene is a member of a group called the carotenoids, a group of antioxidants that are converted into Vitamin A in the human body. Beta-carotene contributes to skin health, eye health and boosts immunity.
Fiber
Pumpkin is packed with fiber. As we know, fiber plays a crucial role in your digestive, heart, and skin health. Additionally, adequate fiber intake can improve blood glucose levels, and help in efforts to manage your weight.
The Seeds
Let us not forget my favorite part about the pumpkin – the seeds! Roasting pumpkin seeds is truly one of my favorite parts about the fall season.  Pumpkin seeds (also known as pepitas) are full of healthy fats, antioxidants, iron, magnesium, zinc and other important micronutrients. These delicious seeds are a great alternative to the sugary snacks Halloween has to offer and they are just as satisfying.
Pumpkin seeds can be seasoned with your favorite spices, whether you like them savory or sweet. Cinnamon, ranch seasoning and garlic powder are just a few of the ways; I personally like to toss mine in some spicy Cajun seasoning for a nice kick!
After you've carved your pumpkin for Halloween, save those seeds and try the recipe below for a simple, easy, and delicious fall treat.
Roasted Pumpkin Seeds Recipe

Ingredients:

1 cup of fresh pumpkin seeds

1 teaspoon of canola oil

1/8 teaspoon of salt

Directions:

Place rack in center of oven; preheat to 350°F. Line a rimmed baking sheet with parchment paper or a nonstick baking mat.
Place pumpkin seeds in a small bowl, drizzle with oil and stir to coat. Add salt, stir to combine and coat. Spread on the prepared baking sheet in an even layer.
Bake the seeds, stirring once or twice, until toasted and golden brown, about 20 minutes.