LiveSmart: Warm Your Body and Hydrate When the Weather Gets Cold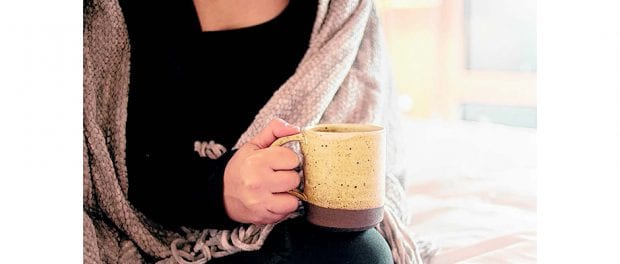 [This article was written by Michelle Eckler, MS, RDN, CDN, CNSC, clinical registered dietitian at Samaritan Hospital, St. Peter's Health Partners.]
On winter days when the temperature barely gets above freezing, what better way to warm up than with a bowl of soup and a mug of hot tea? Both can be nutritious choices for surviving those cold winter days.
Chowders, chilis, bisques, and broths – the soup possibilities are endless! Canned soups are loaded with sodium, some with a thousand or more milligrams, as well as other preservatives. When you make soups from scratch, you control the amount of sodium and can increase the nutritional quality by adding more vegetables, lean protein, and fiber.
To make a delicious homemade soup, start by selecting a reduced-sodium broth. Increase the nutrients by adding lots of either fresh or frozen vegetables. Plain frozen vegetables are a great, low-cost option and taste much fresher when compared to canned vegetables. Choose a lean protein source such as ground turkey. If your recipe calls for rice or pasta, select brown rice, whole grain pasta, or barley to add whole grains and fiber.
Soups are also a great way to get extra fluid, as hydration is important in the winter. Staying properly hydrated can give your immune system a boost and help your body fight off certain illnesses, such as the common cold and the flu.
Homemade soups can be kept in the refrigerator for three to four days and most can even be frozen for two to three months.
During the winter months, many of us like to indulge in festive, holiday coffee drinks. Although tasty, these drinks often contain a high amount of calories, usually from saturated fat and added sugars. For example, one 16 oz. Starbucks peppermint mocha contains 440 calories, 10 grams of saturated fat, and 54 grams of sugar.
Instead, try reaching for hot tea. Many teas are high in polyphenols, which act as antioxidants, and can help to reduce your risk of cancer, heart disease, and diabetes. Be cautious of some tea drinks that have added sugars and calories. Look for unsweetened teas and lightly sweeten them yourself. If you're looking for a natural pick-up, choose green or black tea, and remember herbal teas are naturally caffeine-free.
One of my personal favorites is a chai latte; try out the recipe below. Have a warm and wonderful New Year!
Homemade Chai Latte
(Recipe courtesy of fitfoodiefinds.com)

 Ingredients:

Two cups unsweetened almond milk (may also use skim or 1% milk)
Two black tea bags
Chai spice (1 teaspoon ground cinnamon, 1/2 tsp ground ginger, 1/4 tsp ground allspice)
1-2 tablespoons of maple syrup (to taste)

Directions:

Place milk and tea bags in a small pot and bring to a boil over medium-high heat.
Once boiling, remove from heat and let tea bags steep for three minutes.
Remove tea bags and add in spices and maple syrup. Mix well.
Serve either hot or chilled over ice.