LiveSmart: Newborn Screenings – The First Step Towards Lifelong Care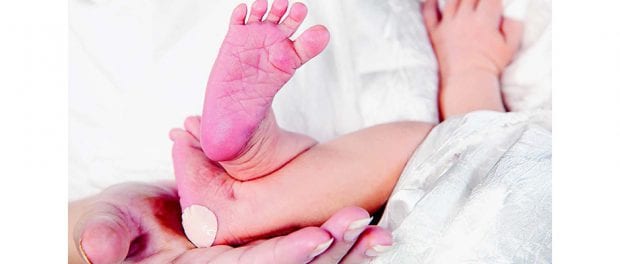 [This piece was written by JoAnn Lionarons, BSN, RNC, C-EFM, CLC, nurse manager for St. Peter's Hospital Women's & Children's Services.]
September is Newborn Screening Awareness Month. According to the New York State Department of Health, more than 11 million tests, screening for 60 conditions, are performed on a quarter of a million babies born each year in New York state.
Newborn screening is a public health program that consists of a blood lab test, pulse oximetry and hearing screening. It is typically done 24 to 48 hours after birth, while mom and the newborn are still in the hospital.
The bulk of the screening focuses on identifying babies with certain genetic disorders. Although most of the disorders are rare, they are usually serious and some can even be life threatening. Early intervention can help lessen serious side effects and sometimes even prevent others that could permanently impact newborns and their families.
The tests for all of these conditions – 50 different genetic, hormonal and metabolic disorders – are performed on a tiny sample of blood obtained by a heel stick on the newborn. The sample is collected and dried on a special paper, which is then sent to the New York State Newborn Screening Program for testing. At St. Peter's Hospital, the sample is collected bedside with the parents present, allowing them to participate with soothing techniques for their newborn.
The screening is designed to identify all newborns with the potential for one of these disorders. The results are then reported to the newborn's pediatrician, who will follow up with the child's parent(s) if further testing is warranted. Further testing would be scheduled with a specialist to verify whether or not the newborn has the disorder, and what course of treatment may be necessary.
The hearing screening and pulse oximetry components of the screening are both non-invasive tests that occur at the 24 hour mark following a newborn's birth. The pulse oximetry screens for critical congenital heart disease, while the hearing screening looks for hearing loss that can be caused by a variety of factors (see this article from Debra Trees, Au.D., CCC-A, for details on this part of the screening).
It is important to remember that most newborns will not have one of these disorders, and even those who do may look completely healthy at birth. This is why testing is so critical, so that every newborn has the potential for better outcomes and as healthy of a life as possible.
Earlier this year, St. Peter's Hospital received the 2019 Women's Choice Award as one of America's Best Hospitals for obstetrics for the fifth consecutive year. St. Peter's was also the first hospital in the Capital Region to earn the international "Baby-Friendly" hospital designation.
For information on delivering a baby at St. Peter's Hospital, as well as breastfeeding, placental donation, infant care, or parenting classes, please call 518-525-1388 or visit https://www.sphp.com/womens-childrens-sph.