LiveSmart: Parents Urged to Vaccinate their Children, Ages 5 to 11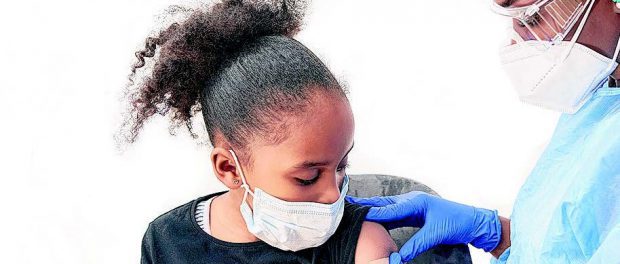 [This piece was written by Nathan Graber, MD, MPH, FAAP, with St. Peter's Pediatrics – Clifton Park, a member of St. Peter's Health Partners Medical Associates.]
Last week, the Centers for Disease Control and Prevention (CDC) authorized the Pfizer COVID vaccine for use in children ages 5-11. This was an important step in the effort to protect everyone in our communities, schools, places of worship, and sports leagues from COVID. It represents a major milestone towards ending the pandemic and the restrictions our children face at school and beyond.
According to the latest data from the American Academy of Pediatrics (AAP), nearly 25 percent of all new cases of COVID are among children and almost all hospitalizations are among those not vaccinated. As a pediatrician and a parent, I have been asked how do we decide if our own kids should get the vaccine? How confident are we the vaccine is safe and effective in children?
Anyone with children is familiar with vaccines. We know they are one of the greatest public health accomplishments of modern society, saving countless lives and protecting our health for more than a hundred years. We are so confident in the current recommended schedule we chose to mandate the majority of these vaccinations in order for children to attend school.
Although this is the first messenger RNA (mRNA) vaccine for use in children, it is not based on a new technology. The research on this technology began in the 1960s and clinical trials for mRNA vaccines against other diseases started 20 years ago.
This mRNA vaccine is used by our cells to create a protein found on the surface of the virus. It is quickly broken down afterwards and doesn't enter the nucleus of the cells where the DNA is. Ultimately, it accomplishes the same thing that vaccines which use other technologies do: trigger our immune system to recognize the protein and then fight the virus. If there is exposure to the virus after vaccination, your body will act quickly to prevent you from getting sick.
No short cuts were taken in the development or evaluation of this vaccine. The trials included tens of thousands of participants. Nearly a third of a billion Americans have received at least a single dose of an mRNA vaccine since they became available nearly a year ago. And worldwide, millions of kids ages 12 and up have been safely vaccinated.
The side effects in individuals who received the COVID-19 vaccine have been mild and quickly resolve. Among the few children who experienced myocarditis, they either recovered on their own or needed minimal treatment and rest. We have no reason to suspect any long term effects since almost all vaccine side effects are seen shortly after the shot is given; no long term effects have been seen with this vaccine to date.
Backed by research and examination from the Advisory Committee on Immunization Practices, CDC, FDA, and AAP, the recommendation is that children ages 5-11 be vaccinated as soon as they are able. Speak to your pediatrician about timing and availability, and rest assured that getting your kids vaccinated is safe and the right thing to do.
St. Peter's Pediatrics – Clifton Park, 1 Tallow Wood Drive on the St. Peter's Medical Campus, offers a complete range of services for children including sick visits and vaccinations. New patients are welcome; call 518-688-0295 for an appointment.