LiveSmart: Psoriasis Isn't Contagious – But Knowledge About It Is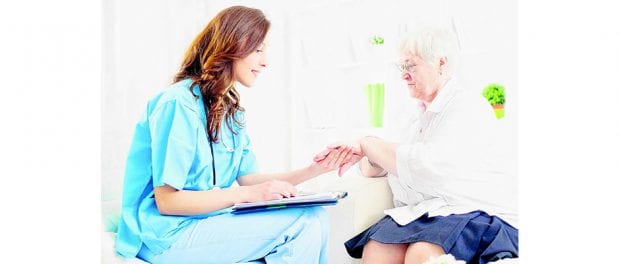 [This piece was written by Nalini Ramanathan, MD, Family Medical Group in Rensselaer, St. Peter's Health Partners Medical Associates.] 
According to the American Academy for Dermatology, approximately 7.5 million people in the United States have psoriasis, a chronic inflammatory disease of the immune system. Although many view psoriasis as just a "skin condition" it is actually a chronic disease of the immune system, with symptoms that can range from mild to severe.
Psoriasis creates unwelcomed patches of itchy, scaly, or inflamed skin called plaques. Though they can appear anywhere, people are most likely to get them on their knees, elbows, hands, feet, scalp, back, or belly button.
Psoriasis mostly affects the skin and joints, but it also may affect the fingernails, the toenails, the soft tissues of the genitals and the inside of the mouth.
Psoriasis may look contagious, but it is not. Medical researchers believe that both genetics and medical factors play a role in developing the disease.
Stress can be a major psoriasis trigger for many, but the triggers are not the same for everyone. According to the Mayo Clinic, established psoriasis triggers include:
Stress
Injury to the skin
Certain medications
Infection
Smoking
Heavy alcohol consumption
Psoriasis is characterized as mild, moderate, or severe according to the amount of body surface area (BSA) affected and the severity of redness, thickness, and scaling of the skin.
Approximately 80 percent of those affected with psoriasis have mild to moderate disease, while 20 percent have moderate to severe psoriasis affecting more than five percent of the body surface area.
The most common form of psoriasis, affecting about 80 to 90 percent of psoriasis patients, is plaque psoriasis. It's characterized by patches of raised, reddish skin covered with silvery-white scale. Up to 30 percent of sufferers also get psoriatic arthritis, which causes pain, swelling, and stiffness in and around your joints.
Severity is also measured by the physical and emotional impact of the disease on your life. It's important to talk to your doctor to develop a treatment plan that helps to manage your disease. Psoriasis symptoms may flare up at certain times and go away at other times.
Although there is no cure for psoriasis, treatment options to manage the symptoms include:
Medicines applied to the skin (topical treatment)
Light treatment (phototherapy)
Drugs taken by mouth or injection (systemic therapy)
If you believe you may have psoriasis or psoriatic arthritis, your first step is to consult with your primary care physician, who can provide a formal diagnosis and get you started on a treatment plan.
Family Medical Group, a member of St. Peter's Health Partners Medical Associates, is located at 279 Troy Road in Rensselaer (the Walmart plaza on Route 4). The practice offers a comprehensive range of primary health care services including pediatric exams, adolescent medicine, routine adult and geriatric health care, preventative health and wellness services, and assistance managing chronic medical conditions such as diabetes and psoriasis. For information, call 518-286-1922.