192 Bags Donated to Patients at St. Peter's Cancer Care Center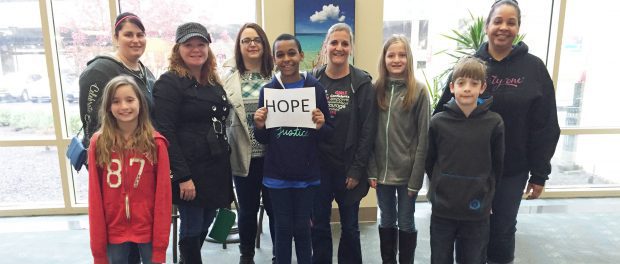 Local consultants for Thirty-One Gifts recently organized a generous donation of 192 handbags for patients at the St. Peter's Cancer Care Center.
The bags were filled with blankets, warm socks, creams and lotions, books, and other items intended to provide comfort to patients undergoing treatment.
Thirty-One Gifts consultants Erin Delnick, Rachael Rogers, Kendra Hadden, Erika Riddick, and Colleen Landversicht organized the donation. They asked their customers to sponsor bags as well as donate items to put in the bags.
"Our patients love these bags," said Anne Lawton, RN, community outreach nurse with St. Peter's Cancer Care Center. "We are so thankful to the Thirty-One Gifts consultants and everyone who contributed to the bags. Their generous donations are making a direct, positive impact on individuals who are receiving treatment for cancer."
Delnick, Rogers, Hadden, Riddick, and Landversicht, along with Tori Riddick, Jordan Landversicht, Shea Landversicht, and Ava Landversicht, delivered the bags on April 27. This marks the second time the group has donated bags to the St. Peter's Cancer Care Center.
Thirty-One Gifts, a direct sale company, launched its philanthropic program, Thirty-One Gives, in 2012. Over the past four years, the program has donated more than $80 million in products and cash.