NewsChannel 13: St. Peter's Dedicates Troy Cancer Centers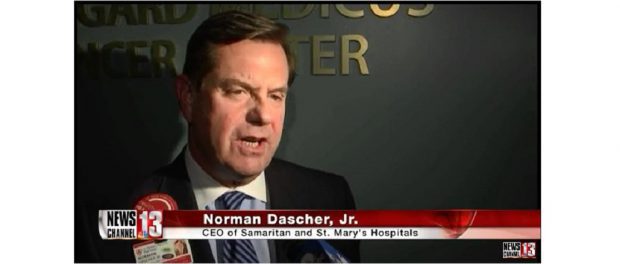 NewsChannel 13 was on hand Tuesday, when St. Peter's Health Partners held a ceremony to rename its two Troy cancer centers in honor of the late Hildegard Medicus. The dedication and renaming were in appreciation of the generosity of her husband, 97-year-old donor Heinrich Medicus, and his $1.5 million gift to advance cancer services.
From the story:
The facilities are now named after the late Hildegard Medicus. She was the wife of 97-year-old philanthropist Heinrich Medicus, who donated $10 million to Saint Peter's Health Partners.

He announced another $1.5 million donation. The money will advance cancer services at Samaritan and the new center at Saint Mary's.

"Since we've opened it, the number of patients being seen in Troy has increased dramatically," said Norman Dascher Jr., CEO of Samaritan and St. Mary's Hospitals. "People are coming from all over the region, not only for the new center but because of our staff, our physicians and everyone here have done an amazing job in bringing this new service to Troy."
See the full story here.