Cardiopulmonary Rehabilitation and Wellness Program Moves to New Location in Samaritan Hospital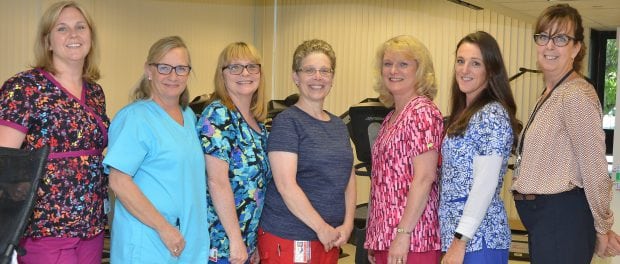 The Cardiopulmonary Rehabilitation and Wellness Program at Samaritan Hospital recently moved to its new home on the hospital's first floor.
A dedication ceremony was held Wednesday, July 11, to celebrate the opening of the new location, which previously housed the hospital's Women's Health Center.
"We are so pleased to open the new home of the Cardiopulmonary Rehabilitation and Wellness Program, for both our patients and our colleagues," said Norman Dascher, Jr. "For our patients and their families, this new space is truly people-centered. For our therapists, this new location will amplify their talent and help make the absolute best use of their healing skills."
"The success of these programs requires collaboration and support from many different colleagues, including hospital administration, medical directors, physicians, staff, and patients," said Vickie Tower, director of the program. "Thank you to everyone who supports our program, and who played a role in making today possible."
The Samaritan Hospital Cardiopulmonary Rehabilitation and Wellness Program features four separate programs, each of which is important to the health and recovery of patients.
The Pulmonary Rehabilitation Program, now in its 15th year, helps patients with chronic obstructive pulmonary disease (COPD) and other lung diseases improve their breathing and overall well-being. The comprehensive program provides the greatest improvements in symptoms, exercise capacity, and health-related quality-of-life therapy individually designed for each patient by a respiratory therapist.
The Cardiac Rehabilitation Program, now in its 30th year, is a medically supervised exercise program for individuals who have experienced a cardiac event, such as a heart attack, stent placement, bypass surgery, or valve replacement surgery. The program helps individuals exercise safely and maintain a heart-healthy lifestyle and includes education to help patients control their risk factors, manage their illness, and understand their emotions.
The Cancer Fitness Program is a personalized exercise program designed to help individuals manage the physical side effects of cancer treatment and aid in the recovery process. The program serves individuals who are currently receiving treatment, as well as cancer survivors who have completed treatment within the previous year.
The Wellness Program is open to anyone wishing to increase their exercise endurance, learn healthy eating habits, and improve their overall well-being.
For more information about the Cardiopulmonary Rehabilitation and Wellness Program at Samaritan Hospital, please click here or call 518-326-7707.
Click here to watch a video of the dedication ceremony.