Colleague Brings Holiday Cheer to Children with Donation of Personal Collection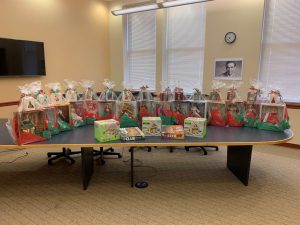 When colleague Shelley Broderick, a senior secretary at Eddy Hawthorne Ridge, decided the time had come to part ways with her collection of Holiday Celebration Barbies, she knew she wanted to bring holiday smiles to our pediatric patients.
Broderick donated 15 Barbies, in their original packaging, along with corresponding Hallmark holiday ornaments to be distributed to patients of our St. Peter's Health Partners Medical Associates pediatric practices, along with gingerbread house kits and board games.
The collection, over 30 years in the making, is part of Broderick's larger collection of 250+ Barbie dolls and Franklin and Danbury Mint dolls, which she began in 1990. While Broderick enjoys collecting many types of Barbie dolls — vintage, silkstone and porcelain, the Holiday Celebration Barbies are near and dear to her heart.
"Now, more than ever, I think everyone needs to remember what this holiday is all about – it's about caring and sharing with others, and I hope this brightens  Christmas for children in our care at this special time of year." said Broderick of her decision to donate.
St. Peter's offers its gratitiude to Shelley for her inspiring generosity and to the medical practices for coordinating distribution. Happy holidays to all!