Commissioning Service Affirms, Challenges St. Peter's Hospital CVICU Staff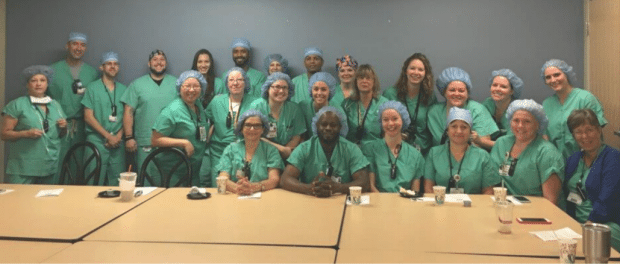 On August 4, a commissioning service was held for interim managers and staff at the St. Peter's Hospital cardiac services cardiovascular intensive care unit (CVICU).
Commissioning services offer affirmation of an individual's role within the organization, and a challenge to serve faithfully in that role.
"A commissioning service is a time of encouragement," said Jyothi Anjamkudy, DNS, MS, RN, director of cardiac and vascularsurgery at the hospital. "It brings individuals together, it encourages individuals to see themselves as a team, and it enables all employees to recommit to living the mission and core values of St. Peter's Health Partners."
At the service, Dr. Anjamkudy commissioned Ryan Taylor, RN, acting operational manager for the CVICU, and Linda Altieri, RN, CNOR, supervisor for CVICU surgery and the post-anesthesia care unit. Taylor and Alteri, in turn, commissioned members of their staff.
Sister Mavis Jewell, who organized the service, said a commissioning ceremony reflects the high standards for compassion, clinical excellence, and patient care at St. Peter's Health Partners.
"It was a joyful and wonderful occasion," she said. "It celebrated a commitment to doing the job well, and performing it in a manner consistent with our values – particularly the values of serving the poor, the sick, and the elderly in our community."
Sister Mavis Jewell said she is available to organize commissioning ceremonies for other units or departments, and that interested colleagues should contact her at 518-390-8658 or Mavis.Jewell@sphp.com for more information.