St. Peter's Health Partners Launches "The Art of Caring" Nurse Recruitment Campaign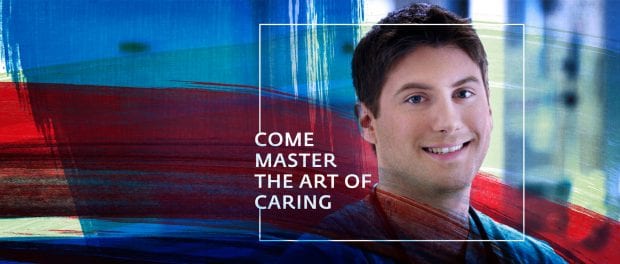 St. Peter's Health Partners (SPHP) this week launched a new RN recruitment campaign, titled "The Art of Caring," to inspire nurses across the greater Capital Region to join our nursing teams.
With headlines including "Make Your Career Your Masterpiece," "Achieve Your Highest Potential," and "Work With People Who Elevate You," each element of the campaign reinforces the importance and impact of nursing on the communities we serve, and calls upon experienced nurses to turn caring into an art form at SPHP.
The advertisements also provide information about a $5,000 sign-on bonus for any experienced registered nurses who join SPHP by December 31, 2018. Additionally, current SPHP colleagues can receive up to a $5,000 bonus for referring nurses who are successfully hired for a full-time position, or $2,500 for a part-time position.
The six-week campaign features a new website, print and digital advertising, social media, email and direct mail. Many of the ads feature nursing colleagues Janet Bartis-Bayly, Norda Edwards, Kathleen McMullen-Deaton, and Ryan Taylor.
The campaign highlights the pride and culture of SPHP.  Please look for digital and social media, as well as print ads in the Times Union starting Sunday, November 18. Additional print and digital ads will debut in the coming weeks, as well as subsequent phases highlighting additional locations and roles.
View the new campaign's website at: www.sphp.com/artofcaring