DayBreak at Rensselaer Clients Perform Christmas Carols at Train Station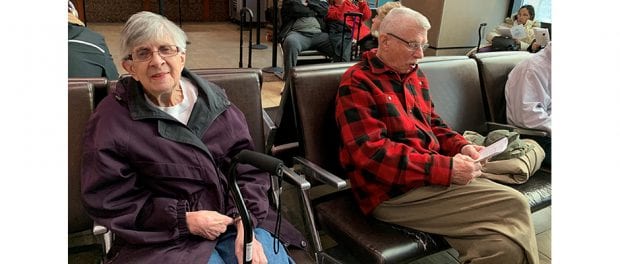 The Eddy's Adult Day Services – DayBreak at Rensselaer, part of St. Peter's Health Partners Continuing Care division, recently took members of its day program to the Rensselaer Train Station for its annual Christmas carol outing.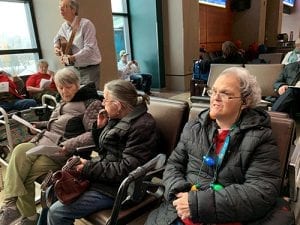 The caroling tradition is now in its 18th year, said program manager Michael Dinuzzo. He, music therapist Mark Ahola (who is with DayBreak through a grant with the New York State Office for Aging), and resident assistant Caroline Kleitgen accompanied the 17 clients on the trip to the station. The caroling session lasted just over an hour.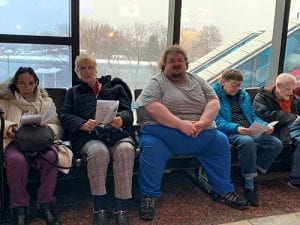 "Little Drummer Boy" was a client favorite, said Dinuzzo, noting that many commuters stopped and sang along, which was a first in the history of the event. Special songbooks were printed up so everyone could easily follow along.
For more than 20 years, Eddy DayBreak has helped to improve the quality of life for adults who are living at home and who – due to illness, injury or age – need a safe and secure daytime environment. DayBreak's programs are tailored to meet the unique needs of each individual and offer activities that help participants gain self-esteem, a sense of well-being, and provide opportunities for independence.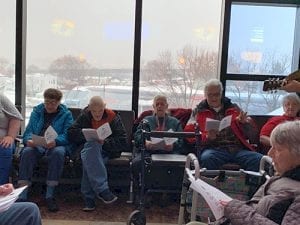 Our social day service program in Rensselaer accepts:
Medicaid waiver
Private payment
Certain managed long-term care plans
Certain Medicaid managed care plans
For more information on the social day services offered by DayBreak in Rensselaer, sponsored by Eddy Village Green, please call 518-436-4302 or visit http://www.sphp.com/adult-day-services-cc