LiveSmart: Coming Together with Lasagna – Faith and Food for the Holidays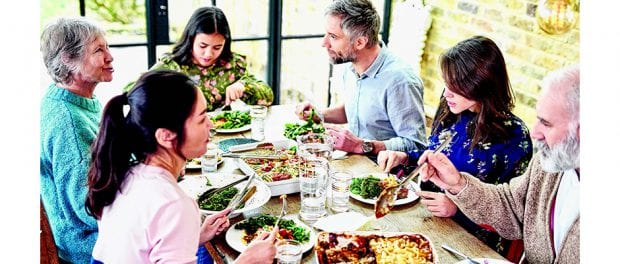 [This piece was written by Jamie Epting, MS, RD, CDN, the system director of clinical nutrition with St. Peter's Health Partners.]
I sat down recently with one of St. Peter's chaplains, Rabbi Moshe Bomzer, to talk about the similarities and differences between the Christian celebration of Christmas, and the Jewish traditions surrounding Chanukah. Since they are often celebrated during the same week each year, I was curious to know if we had any traditions in common, most specifically around food.
While it is important to note these are two very different holidays and traditions, they do come together in a few key places.
The first is that both holidays celebrate something new. In the Jewish tradition, Chanukah is a re-dedication or re-consecration; it is a celebration of where its members come from, and who they will be going forward. Similarly, in the Christian faith, Christmas is a celebration of the birth of Christ. According to Pastor Gary Kubitz, of The First United Methodist Church in Voorheesville, Christmas is not just the celebration of Christ's birth, but also the remembrance of God doing something new in the world.
The second commonality of both holidays is the celebrations usually revolve around time spent together, whether with family, friends or both. For Jews and Christians alike, spending time with family and friends usually means sharing and enjoying traditions involving food.
Chanukah has many food traditions rooted specifically in the holiday. Many of us think of the latke, a delicious potato pancake. The reason this food is so symbolic is how it is cooked; fried in oil. Oil, particularly olive oil, is a representation of the oil that kept the flames burning in the Temple for eight days.
There is also a tradition of eating wine and cheese, which comes from a story of a woman named Judith, who fed a Syrian general wine and cheese to put him to sleep, enabling her to defeat him and save her town. When I asked Rabbi Bomzer how they would serve the cheese, he replied that his office manager, Bev Shor, makes the most amazing lasagna. And that is where it all came together for me!
In many Christian households, including my own, lasagna is the highlight of Christmas dinner. While the Christian celebration of Christmas doesn't have a specific tradition or symbolism set around food, food is usually an integral part. As Pastor Gary noted, when we celebrate Christmas our traditions of love, relationship and giving are symbolic of God's love for us in Jesus. And what better way to share love than by making food rooted in tradition and memory. It could be lasagna, it could be latkes and sufganiyot (jelly donuts), or it could be multiple batches of Christmas cookies.
So, in the spirt of sharing love through food, I am sharing two recipes below. The first is Bev Shor's No Meat Lasagna, a recipe that she got from a friend years ago and has been making ever since. The second is my family recipe for Italian Lemon Drop Cookies. These cookies are in my earliest Christmas memories, as I made them with my mom and sister and we shared them with our family and friends.
I hope you enjoy both and share them this holiday season with the ones you love, and maybe even someone you hardly know. No matter what holiday you may celebrate, I wish you a joyful and love-filled holiday season!
Bev Shor's No Meat Lasagna
1 lb. lasagna noodles
1 ½ lb. ricotta cheese
1 lb. mozzarella cheese (grated)
2 eggs
4 cups of favorite marinara sauce to which 2 Tbs. melted butter has been added
1 tsp. salt
Directions:
Mix ricotta, eggs and salt
In ungreased 9 x 13 pan, layer sauce, noodles, ricotta mix, and mozzarella
Repeat with numerous layers, ending with mozzarella
Bake at 350 degrees for 45 to 55 minutes
Let stand for 15 minutes before slicing
Italian Lemon Drop Cookies
4 eggs
2 sticks butter or margarine
1 cup sugar
1/2 cup milk
2 tsp. lemon extract
4 cups flour
4 tsp. baking powder
Colored, ball-shaped sprinkles
Lemon-flavored frosting (either purchase pre-made or make your own)
Directions:
Cream butter and sugar. Add eggs one at a time, beating after each addition. Add lemon extract. Stir together flour and baking powder. Add alternately with milk.
Drop by rounded teaspoon on a greased cookie sheet.
Bake 10 minutes at 350 degrees.
Remove from cookie sheet and cool on wire rack. (It helps to beat batter every so often as you are spooning out the dough; it helps the cookies stay more round.)
Frost with lemon-flavored frosting. Sprinkle with colored balls before the frosting sets.