Elvis Visits Eddy DayBreak in Rensselaer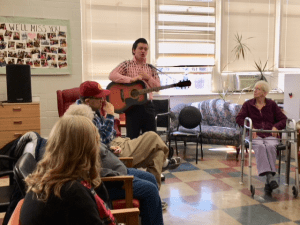 On Monday, April 9, participants of Eddy DayBreak Adult Day Services in Rensselaer received a visit from the King of Rock 'n' Roll, Elvis Presley. DayBreak participants and staff enjoyed the entertainment and sang right along. They were also able to enjoy an ice cream social. The role of Elvis was played by Matthew Boyce, a local award-winning Elvis tribute artist.
For more than 20 years, Eddy DayBreak has helped to improve the quality of life for adults who are living at home, yet need a safe and secure daytime environment that offers opportunities for independence, growth and development. The Eddy DayBreak location in Rensselaer is a social program – providing various activities, a hot lunch, and socialization, all while giving family caregivers the opportunity to fulfill work or personal obligations.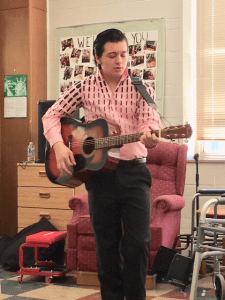 DayBreak locations in Troy, Cohoes, and Clifton Park offer a full range of medical services, including, but not limited to, skilled nursing, assistance with bathing, rehabilitation services, and social work services. DayBreak at the Marjorie Doyle Rockwell Center offers a medical day program specifically for people experiencing memory loss.
For information on medical day services for those experiencing memory loss, please call 518-238-4152. For any of the Eddy DayBreak programs throughout the Capital Region, please call 518-729-6523.