Food Closet Now Open for Patients of the Hildegard Medicus Cancer Care Center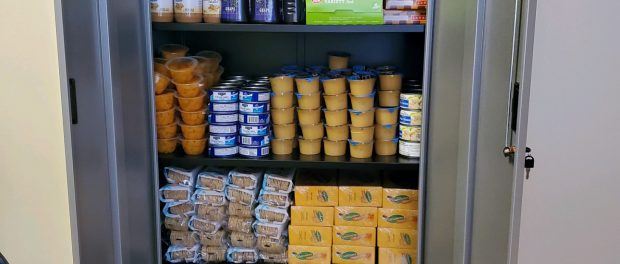 On December 2, 2020, a ribbon-cutting ceremony was held to mark the opening of a new food closet at the Hildegard Medicus Cancer Care Center at Samaritan Hospital – St. Mary's Campus in Troy, an affiliate of St. Peter's Health Partners (SPHP).
The food closet, located within the Cancer Care Center and operated by staff, is stocked with healthy, medically appropriate, shelf-stable food. It is available to patients identified as having food insecurities.
"The cost of medical care after a cancer diagnosis can impose substantial financial hardship on cancer survivors and their families," said Anne Lawton, community outreach nurse for SPHP Cancer Care. "In order to treat patients to the best of our ability, we must address social determinants of health, including food insecurity."
Food insecurity is defined as a state in which a person or household lacks access to adequate and nutritious food because of financial or other resource limitations. In Troy, where the Cancer Care Center is located, the poverty rate currently stands at 26.1%. Those living with food insecurity in Rensselaer County – an estimated 26.4%.
"Cancer patients are among our most at-risk patients," said Kathy DeRosa, vice president of mission services for SPHP. "Caring for the poor and for those who are most vulnerable is at the heart of our mission. By offering these patients convenient access to free, healthy foods, we hope to not only fill a nutritional void, but to also enhance the patient's overall recovery experience."
The food closet is available to qualified patients who are identified by staff through ongoing evaluations. Those who are deemed eligible will be provided food throughout their treatment period. At the completion of their treatment, the patient will be referred to social work for screening and assistance for long-term help.
The food closet is part of a new Food as Medicine and Emergency Food Assistance Program, launched in December 2020. It was made possible through the collaboration of the SPHP Food Farmacy Program and SPHP Cancer Care.