Celebrating National Hospital and Nurses Week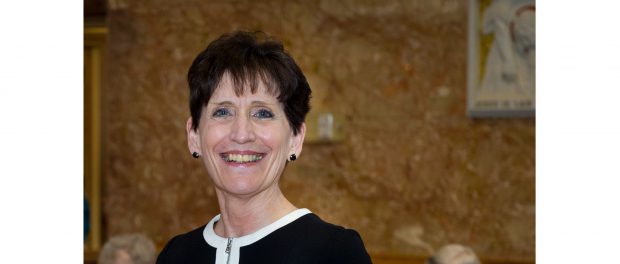 [Virginia Golden, Chief Executive Officer of St. Peter's Hospital and Albany Memorial Hospital, shared the below memo with staff.]
As we embark on national hospital and nurse's week this week, I want to take this opportunity to extend my appreciation and gratitude to all our staff at both St. Peter's Hospital and Albany Memorial Hospital. I am particularly touched by the 2016 themes from the American Hospital Association and the American Nurses Association, "Health Care from the Heart" and "Culture of Safety – It Starts with You."
Every day and in so many ways all of our staff and physicians come together as a team to care for and to keep safe the many patients and families who entrust their care of a loved one – often at the most vulnerable moments of their life – to us. Whether we are working in one of our office practice sites, our acute care setting, or our community sites, the care and compassion you all demonstrate every day with every encounter brings to life the mission and values of St. Peter's Health Partners.
Each day I receive notes, cards, and emails that acknowledge the extraordinary care and service you all provide. It is clear that each day you open your hearts to care for our community in a compassionate and caring manner. The messages highlight the entire team of providers who work respectfully and collaboratively to provide care and achieve the best outcomes for our patients and families. That team work is a hallmark of our organizations.
Our nursing staff is known for its excellence and compassion and they are at the very foundation and core of the care we provide. At St. Peter's, the achievement of Magnet designation for a third time demonstrates our nursing staff has achieved the gold standard of nursing excellence and represents sustained and demonstrated patient care outcomes. The excellence, competency, and caring are simply unmatched in our community.
However, that care cannot be delivered to our patients and families without the entire team of staff who work tirelessly to support our care teams. Each member of our staff and our providers contribute to the ultimate experience of our patients and their families.
So, at this time of year when there are national recognition weeks, I want to extend my profound gratitude to you all. As I enter the fourth week of serving as the CEO of St. Peter's Hospital and Albany Memorial Hospital – each day I recognize how honored I am to be serving you in service to our community. My commitment to you – I will acknowledge and appreciate you throughout the coming year, not just a one-week experience but an ongoing tribute to your service and excellence. Thank you for bringing to life our mission and serving as a transforming healing presence in our community.
Gratefully,
Virginia