Samaritan Hospital Auxiliary Donates $100,000 in Support of Minimally Invasive Technologies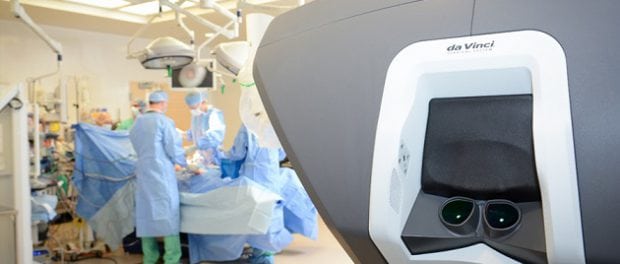 The Samaritan Hospital Auxiliary recently announced it has donated $100,000 to the Northeast Health Foundation. The gift is earmarked to go towards the purchase of a state-of-the-art da Vinci Xi Surgical System to be installed at Samaritan Hospital in Troy.
By acquiring the da Vinci Xi Surgical System, Samaritan Hospital will continue its efforts to position itself as a Minimally Invasive Center of Excellence (MICOE) for the Capital Region. The Northeast Health Foundation recently executed a Major Gifts Campaign effort, seeking charitable donations of $1.7 million, in order to fund the investment necessary to implement the Center of Excellence. Funds raised through the campaign will be used to purchase minimally invasive surgical equipment, including the da Vinci Xi, and address necessary start-up costs associated with this important initiative.
The da Vinci Xi Surgical System integrates robotics and extremely sophisticated computer technology with the skills of the surgeon. The system allows the surgeon to perform delicate operations with great precision and maneuverability, but requiring only tiny surgical openings. By avoiding the large incisions of open surgery, this computer-assisted, micro-surgery helps avoid many complications and speeds a patient's recovery.
The success of this Major Gifts Campaign depends upon the generous philanthropic support of donors like Samaritan Hospital Auxiliary, whose contribution will make this significant advancement possible. The Samaritan Hospital Auxiliary continues to leave an indelible mark on the future of Samaritan Hospital and St. Peter's Health Partners' commitment to care for the community.
To make a pledge, please call St. Peter's Health Partners' Center for Philanthropy at 518-482-4433 or visit https://www.givetonortheast.org/donate/
For more than a century, the auxiliary at Samaritan Hospital has provided much-needed support through volunteer participation and financial assistance. Today, the Samaritan Hospital Auxiliary is comprised of men and women who continue to provide both financial and volunteer support to our hospitals. Auxilians can become involved in a number of ways through:
Working on fundraising events
Serving as a volunteer
Helping out in the gift shop
Staffing Red Cross blood drives
Attending luncheons and trips
Getting involved with healthcare advocacy
Participating in community outreach
For more information, contact the Samaritan Hospital Auxiliary at 518-271-3336 or visit http://www.sphp.com/auxiliary-sam