SPHP Nurses Helping Those in Need on Thanksgiving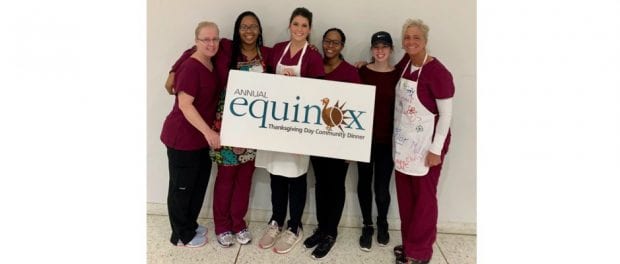 Nurses from 3 Gabrilove at St. Peter's Hospital spent part of their Thanksgiving morning helping those in need. The nurses volunteered to prepare meals for the annual Equinox Thanksgiving Day Community Dinner.
The Capital Region's largest and longest-running holiday tradition started nearly 50 years ago, and today serves more than 10,000 lonely, homebound, or homeless neighbors. The dinner is funded entirely by generous donations from local businesses, civic groups, and private citizens, and made possible with the help of more than 3,600 volunteers.
Volunteers not only cook, serve, and deliver meals–they also take roles in leadership, coordination, and assist with clean-up.
A sit-down dinner is served at the First Presbyterian Church in Albany. Remaining meals are delivered to people living within 40 miles of Albany.