Samaritan Hospital ICU Nurse Rahmat Gul Honored with DAISY Award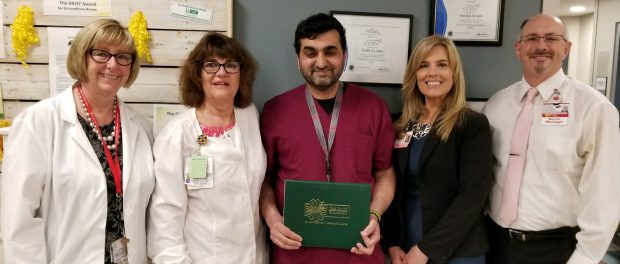 Samaritan Hospital held a ceremony on May 20 to honor intensive care unit (ICU) nurse Rahmat Gul, RN, with a prestigious DAISY Award for outstanding patient care.
The wife of a former ICU patient nominated Gul for going above and beyond, and for his compassion.
"He was one of the most compassionate nurses that I have come across in all the years my husband has been in the hospital," the patient's wife wrote. "I would want him to take care of my husband any time he was in the ICU."
DAISY is an acronym for Diseases Attacking the Immune System. The family of Patrick Barnes, who died at age 33 of complications of Idiopathic Thrombocytopenic Purpura (ITP), created the DAISY Award to honor his memory and recognize the healing work of the nurses who had cared for him and continue to care for patients everywhere.
There are more than 2,000 health care facilities in all 50 states and 14 other countries, committed to honoring nurses with The DAISY Award.