Samaritan Hospital Nurses Honored for Exceptional Care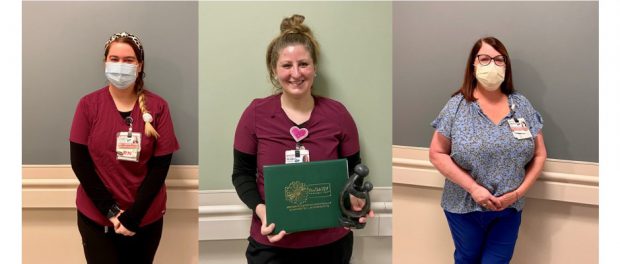 Three nurses at Samaritan Hospital are the latest recipients of the DAISY Award for Extraordinary Nurses. The award is part of the DAISY Foundation's mission to recognize the exceptional, compassionate care nurses provide patients and families every day. Nurses are nominated by their patients, patients' families, and their peers.
Emily Butler, RN, and Maria Casale, RN, are this quarter's DAISY Award winners.
Emily works on 5 Pavilion at Samaritan, a medical-surgical floor. Her nominee, a patient, praised her nursing skill, but noted it was Emily's exceptional kindness and compassion that really made a difference in her recovery.
"Emily was a great help to me. She acted as a nurse, social worker, and friend," said the patient. "She not only cares about the health of her patients but cares about them as a person. She helped me with not only my medical issues but my mental health as well. She went well beyond her duties as an RN. Emily shows that she actually cares about the whole patient. I will forever remember her kindness."
Maria Casale, RN, works on 4 Pavilion at Samaritan – another medical-surgical floor – where she made an unforgettable impression on a particular patient's family who nominated her.
"It is our belief that Maria is the most extraordinary professional," wrote the patient's family. "It's hard to describe one situation where Maria went above and beyond. We must speak to the size of her heart, the depth of her compassion, the acute problem-solving and nursing skills, and the flexibility with which she met our loved one's needs while balancing the needs of our family. She communicated effectively with doctors, nurses, staff, and administrators. It is our firm belief that Maria truly embodies 'A Healer's Touch.' She is truly deserving of this award."
Doris Yetto, nurse manager on 5 Pavilion at Samaritan, is the recipient of the DAISY Leader Award. Her colleagues describe her as someone who "sees her staff as equals," is "honest, fair and compassionate," and "a fantastic leader who always advocates for our patients and her staff."
Twelve other nurses from the Samaritan and St. Mary's campuses were nominated for the award as well:
Jolene Ballentine, MICA
Courtney Blanchard, 4 Pav
Victoria Chavez, Adult Psych
Svetlana Karpunina, BBC
Lindsey Lavender, 4 Pav
Dannielle Nelson, BBC
Paula O'Donnell, BBC
Timothy Patten, Gero
Heidi Ralph, 6 Tower
Taran Smith, First Choice
Kelley Stufflebeam, BBC
Julie Watts, First Choice
"I am so proud of all our nurse nominees and winners," said Christopher Jordan, chief nursing officer for St. Peter's Health Partners Acute Care and vice president of patient care services. "As we are all too aware, the field of nursing has grown increasingly challenging throughout the COVID-19 pandemic. Yet, these nurses have stayed true to their calling. They have remained at the bedside, holding the hands of the sick and providing highly skilled, compassionate care to both their patients and their patients' loved ones. This award shines an important and well-deserved light on all the great work our nurses do every day."
DAISY is an acronym for Diseases Attacking the Immune System. The family of Patrick Barnes, who died at age 33 of complications from Idiopathic Thrombocytopenic Purpura, created the DAISY Award to honor his memory and recognize the healing work of the nurses who had cared for him and continue to care for patients everywhere.
There are more than 2,000 health care facilities in all 50 states and 14 other countries committed to honoring nurses with the DAISY Award.