SPHP's Nursing Professional Development Department Wins Nursing Excellence Award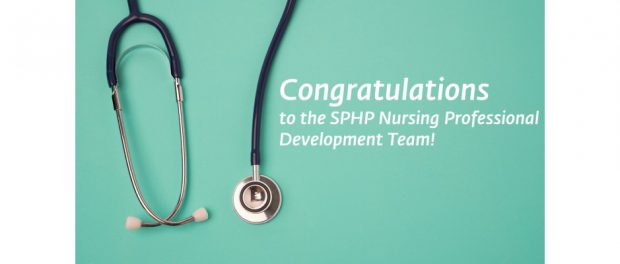 The Northeast New York Professional Nurses Organization has honored the Nursing Professional Development Department at St. Peter's Health Partners (SPHP) with its Teamwork Award.
The annual award was presented during a ceremony on June 2 at the Century House in Latham. The award recognizes nursing teams for exhibiting characteristics that foster teamwork and collaboration through shared goals, mutual respect, communication, and openness to learning.
SPHP's Nursing Professional Development (NPD) team was recognized for embodying these characteristics, particularly during the COVID-19 pandemic. Confronted by numerous challenges, including staffing shortages, the NPD team responded with creative solutions.
"The team uptrained staff and worked to address systemic issues while maintaining its presence as a driving force in keeping staff competent and ready for the next challenge," said Julie Brott, MSN, RN, CCRN-K, director for nursing professional development at SPHP. "I am extremely proud of our team and grateful for this well-deserved recognition."
The NPD is a collaborative group of 24 professionals, including 16 clinical nurse educators, five clinical nurse specialists, one instructional design specialist, one training associate, and one director. The group coordinates programming encompassing new hire orientation, competency, education, resuscitation, nurse residency, the learning management system, and student affiliations throughout SPHP, as well as addresses real-time educational needs of the nurses at the bedside in acute care.
NPD team members:
| | |
| --- | --- |
| Amy Aliberti, MS, RN, PMH-BD | Pamela Barrall, MS, RN, CEN |
| Claudia Bendett, BS, RN, CNOR | Julie Brott, MS, RN, CCRN-K |
| Katrina Casey, BS, RN, CNOR | Lisa Davis, MS, RN, WCC |
| Deidre Dunn, MS, RN, NPD-BC, CNS, CCRN | Katherine Dull, MS, RN |
| Katelyn Dwon, MS, RN | Jamie Eames, MS, RN, NPD-BC |
| Kathleen Gallichio, MS, RN, ACNS-BC, CCRN, WCC | Donna Harat, MS, RN, CMSRN |
| Ginger Kehn, MS, RN, CCRN | Kaitlin Knight, MS, RN, PCCN-K |
| Nancy Knowles, MS, RN, NE-BC | Tracy Kuehn, BS, RN, CDCES |
| Darcy Mack, MSEd | Patricia Newell-Helfant, MS, RNC, CPNP |
| Christine Pruett, MS, RN, GERO-BC, ONC | Anne Riley, MS, RNC-NIC |
| Cindy Schisler, Training Associate | Susan Sparacino, MS, RN, NPD-BC |
| Anne Marie Tomaski, MS, RN, CEN, CNS, SANE | Mary Varkony, MS, RN, AGCNS, CCRN-K |
Congratulations to the team and thank you for all you do, every day, to improve the nursing experience for our colleagues and our patients!