SPHP Nurse Honored as a "Hometown Hero"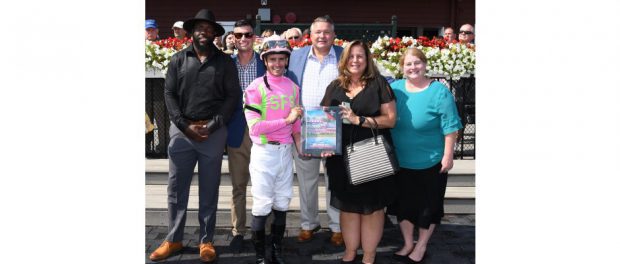 It's not every day that a member of the St. Peter's Health Partners team is celebrated in the winners circle at the Saratoga Race Course. That's exactly what happened to William Rohan, RN, BSN, a registered nurse in the St. Peter's Hospital Emergency Department, who was recently honored as one of CDPHP's Hometown Heroes.
William, better known as Billy to his colleagues, was one of five heroes chosen for the honor. All were nominated by community members for the exemplary work they are doing to make our communities a better place to live, work, and play. Billy was nominated by his father who noted his son's dedication to the job, particularly throughout the height of the COVID-19 pandemic.
"I was honored to be recognized as a CPDHP Hometown Hero," said Billy. "It was truly special to have my family and wife in attendance to share the moment with me. I really appreciated the support of my St. Peter's family as well who are heroes every day."
In addition to working as an RN at St. Peter's Hospital, Billy also travels to all three SPHP emergency departments as part of the CRT Program for clinically skilled nurses, and works as a charge nurse.
Jennifer Schumacher, BSN, CEN, emergency department nurse manager at St. Peter's Hospital, is Billy's supervisor. She expressed how grateful she is to have Billy as part of the St. Peter's family.
"Billy is a kind, compassionate, and selfless health care provider," said Schumacher. "Not only is he an excellent emergency and critical care nurse, he is a leader and educator in our department, and is always advocating for his patients. When he arrives for work, he brings a sense of happiness to our team. We all know that he will be a resource, a person to laugh and confide in, and he will provide the best clinical support to our department. There could not be a more well-deserving person to win the CDPHP Hometown Hero award."
As part of the celebration, CDPHP in partnership with the New York Racing Association, dedicated a race to the five Hometown Heroes during on Aug. 26 during the kickoff to Travers Weekend at the Saratoga Race Course.
Congratulations, Billy!