Samaritan ICU Celebrates First Anniversary in New Home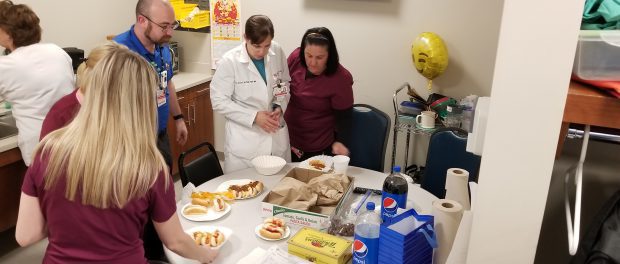 On April 25, staff from the Intensive Care Unit (ICU) at Samaritan Hospital celebrated their first anniversary in their new unit. The festivities included a pizza party and hot dogs from Gus's Hotdogs in Watervliet.
Part of the Troy Master Facilities Plan, the new 41,000-square-foot space is located in Samaritan's new five-story Heinrich Medicus Pavilion. Nearly 10 times larger than the hospital's previous ICU built in 1972, the unit doubled the number of ICU beds from 12 to 24, and created a setting that enhances the ability of nurses and physicians to provide the highest quality, patient-centered care.
According to Vance Marsett, RN, nurse manager of the unit, the larger space has enabled the nearly 100 ICU staff members to care for an average of 14-plus patients daily in addition to providing care to medical/surgical and progressive care unit patients in the ICU's overflow beds.
Congratulations to the ICU team on making this first year a successful and memorable one!