SPHP Colleague Presents at Trinity Health Supply Chain Conference in Nashville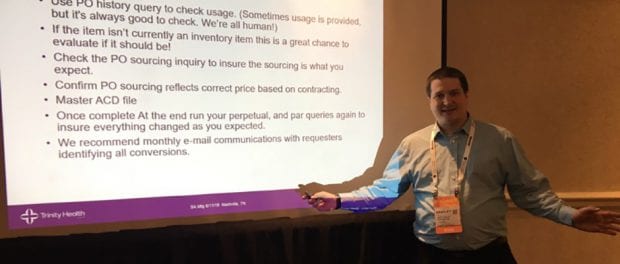 This past August, SPHP Inventory Data System Specialist Brad Hall presented to colleagues from System Office and other RHMs at the Trinity Health Supply Chain Conference in Nashville, Tenn.
Hall spoke about the implementation of PeopleSoft at SPHP and his successful efforts in that platform to design a method combining a number of reports. By combining the reports, he was able to create an inventory analytics tool that provided an overview of each of SPHP's perpetual inventories on a daily basis. By developing this functionality, Hall provided a deep look into the status of each item, allowing members of SPHP's supply chain team to easily determine what actions were needed to keep supply logistics flowing seamlessly to patients.
Hall also provided an overview of a process he developed for product conversions in the new PeopleSoft ordering system. His process allows for a seamless transition to new products, providing better quality and value for our patient populations.
Tushar Somani, SPHP's regional vice president for administrative services, said the feedback from supply chain leaders at the conference was uniformly positive. He noted the methods outlined by Hall are now considered best practices for Trinity and that other regional health ministries (RHMs) will be using them going forward. Hall has already been asked to work with peers from Mount Carmel, St. Alphonsus, Mercy Medical Center – Sioux City, and St. Joseph Mercy Health System – Livonia.
Hall has been working at SPHP since 2013, starting as a distribution technician at St. Peter's Hospital. He was recently promoted to inventory data system specialist after holding the positions of lead distribution technician and supply chain associate for St. Peter's Hospital and Long Term Care.