SPHP Hosts Free Pop-Up Produce Event in Albany's South End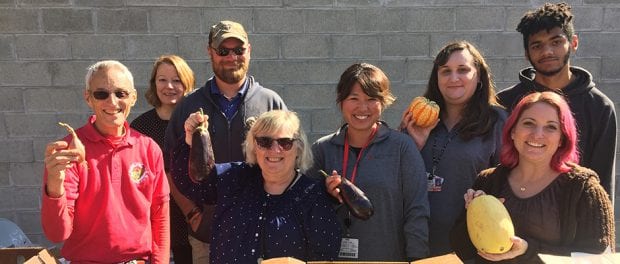 It was a perfect, sunny fall day when St. Peter's Health Partners' division of Community Health & Well-Being hosted a free, pop-up produce event at St. Peter's Family Health Center on Monday, October 14.
St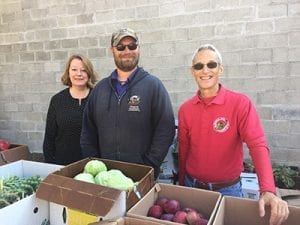 aff from throughout SPHP were on hand at the clinic, located at 326 South Pearl Street in Albany's South End, giving away free produce, apple cider, pumpkins, and boxed lunches to neighborhood residents in need. More than 100 individuals utilized the pop-up market and St. Peter's team members were able to screen 86 families to measure their level of food insecurity.
One community member noted it was the first time he had ever seen such an event in the neighborhood in the 30 years he had lived there, and many more commented they hoped to see similar events in the future.
Local residents started to line up at 9 a.m. for the 11 a.m. event, which ran until 1 p.m. All 100 of the boxed lunches prepared by Chef Matt and his team from the SPHP Nutrition Department were distributed, as well as dozens of cases of fresh vegetables. Patroon Land Farm in Voorheesville, which is owned and operated by the Regional Food Bank of Northeastern New York, provided the produce for the pop-up event including a bounty of carrots, pumpkins, squash, turnips, potatoes, onions, tomatoes, and salad greens. Volunteers from those organizations were also on hand to assist in the distribution.
T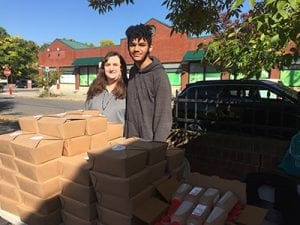 he pop-up produce event is an extension of SPHP's farmers markets, which have been held throughout the summer and fall at various St. Peter's Health Partners locations. During those markets, SPHP distributed food vouchers to qualifying residents, providing them with $10 of free produce. The goal of the markets, as well as the pop-up event, is to further increase access to healthy foods for people who might not otherwise have the opportunity to obtain fresh, organic produce.
In addition to the food, residents were provided coupons for free mammograms by Anne Lawton, community outreach nurse and liaison for St. Peter's Hospital Cancer Care Center. They were also able to speak to SPHP behavioral health social worker Heather Wells, who provided assistance accessing health referrals and addressing transportation needs. Many thanks to the entire team at St. Peter's Family Health Center for providing the space for the market, as well as their assistance in coordinating and executing the event.