St. Peter's Hospital College of Nursing Launches DAISY Award Program Honoring Exceptional Nurses
St. Peter's Hospital College of Nursing, an affiliate of St. Peter's Health Partners (SPHP), is proud to present its first-ever DAISY Nursing Student and DAISY Nursing Faculty awards. Congratulations to Alison Czerno, the winner of the DAISY Nursing Student award, and Yelena Richards, BSN, winner of the DAISY Nursing Faculty award!
Czerno was selected for her commitment to our core values, most importantly her service in SPHP's three local emergency departments as a volunteer advocate for victims of sexual assault and domestic violence. Czerno will develop her practice as a graduate nurse at Albany Memorial's Emergency Department.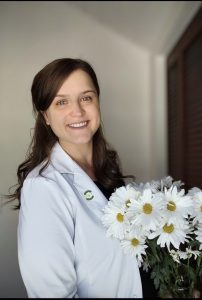 Richards was chosen as the recipient of DAISY Nursing Faculty Award for her "commitment to accepting nothing less than the most competent and compassionate care of patients as a clinical instructor and faculty member."
Four graduate nurse nominees were also recognized for their compassion and kindness: Marvin Jean (Progressive Care), Andrea Nazzaro (Endoscopy), Matthew Norman (ICU), and Elisha Samoranski (ICU).
The awards are part of the DAISY Foundation's program to recognize the contributions nurses make every day in the care of patients. The not-for-profit DAISY Foundation is based in Glen Ellen, California, and was established by family members in memory of J. Patrick Barnes. Patrick died at the age of 33 in late 1999 from complications of Idiopathic Thrombocytopenic Purpura (ITP), a little known but not uncommon auto-immune disease. The care Patrick and his family received from nurses while he was ill inspired this unique means of thanking nurses for making a profound difference in the lives of their patients and patient families.
In addition to the winners and nominees, St. Peter's Hospital College of Nursing would like to congratulate all 28 of its 2022 graduates, 26 of whom have accepted positions within SPHP! We look forward to seeing you in our halls and serving our community!