St. Peters Hospital Graduates First Cohort From New Nurse Residency Program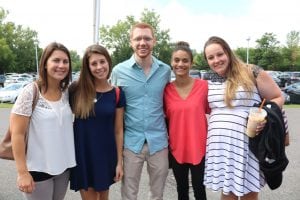 In 2016, St. Peter's Hospital started requiring all newly hired nurses who are recent graduates to complete the Vizient/AACN Nurse Residency Program.
The year-long program focuses on three critical areas in nursing: leadership, patient outcomes, and professional role. The program supports nurses as they transition into their role as caregivers at St. Peter's Hospital.
Last month, St. Peter's Hospital's first cohort of 60 nurses graduated from the Nurse Residency Program. This gave St. Peter's Hospital a 94 percent first-year nurse retention rate, well above the national average of 82 percent.
The hospital held a graduation ceremony to help celebrate the achievement and success of these new nurses, and to recognize the impact they had on many of the patients at St. Peter's Hospital.
At the event, nurses had an opportunity to share evidence-based practice projects with members of St. Peter's Hospital nursing leadership, managers, preceptors, and colleagues.