City of Albany, St. Peter's Hospital Announce New Traffic Study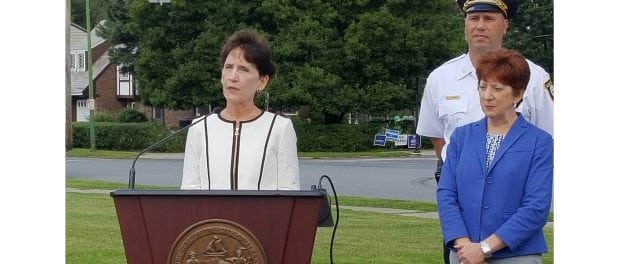 Mayor Kathy Sheehan was joined by Virginia Golden, CEO of St. Peter's and Albany Memorial hospitals, at a press conference on Wednesday, August 23, to announce a new traffic study for the New Scotland, Buckingham, and Krumkill corridor in the City of Albany.
St. Peter's Health Partners has agreed to provide $100,000 in funding to complete the study, which will examine a number of issues related to traffic in the neighborhood including:
Traffic count evaluation and modeling
Resident and commuter concerns
Transportation system evaluation, including Rt. 85, Buckingham Rd. and Krumkill Rd. signals and ramps
Cost estimates and possible funding opportunities for implementation of changes
"Traffic along the New Scotland and Buckingham neighborhood has increased significantly over the course of the last several years, greatly impacting quality of life for residents and traffic conditions for motorists," said Albany Mayor Kathy Sheehan. "I would like to thank St. Peter's Health Partners for partnering with the City of Albany on this study and providing this critical funding."
Virginia Golden, CEO, St. Peter's and Albany Memorial hospitals, said:
"This is an interesting, thriving and diverse area of Albany, because it is home to thousands of city residents, as well as numerous businesses, human services, educational, and health care facilities.  It is also, indeed, a corridor for key access from State and Interstate highways to other parts of our City that also house numerous institutions and governmental centers, and the thousands of employees that operate them.
This corridor serves as one of the epicenters for the movement of people that operate and utilize the City's largest industries – government, health, and education.
Mayor Sheehan approached us a few months ago and noted area residents and motorists had expressed concerns about traffic in this area. She asked if St. Peter's Hospital and St. Peter's Health Partners might be willing to help in this effort by funding consultants to conduct a thorough Traffic Study in this corridor. The goal: to help find solutions that the City and its residents, businesses and other institutions could use for long-range planning, as well as to secure funding to implement solutions.
The Board and Senior Leadership of St. Peter's Health Partners and St. Peter's Hospital are very appreciative to Mayor Sheehan for asking us to participate in this important project. We are exciting and grateful to be a partner with the Mayor and the City in this thoughtful approach to this issue."