Samaritan Hospital Nurses Honored for Exceptional Care
Two nurses at Samaritan Hospital are the latest recipients of the DAISY Award for Extraordinary Nurses. The award is part of the DAISY Foundation's mission to recognize the exceptional, compassionate care nurses provide patients and families every day.
Angel Parks, RN, is a hospice nurse at Samaritan. She was nominated by the mother of a breast cancer patient. That patient, just 36 years old, was given days to live following her diagnosis. In her nomination letter, the woman's mother praised Angel for her extraordinary level of care and empathy.
"Through this entire ordeal, she has helped encourage, even cried with my daughter," wrote the mother. "Her compassion, understanding, and commitment to her patients goes above and beyond her job. Her caring and sensitivity toward people is genuine. I, as well as my family, could never show her the thanks she deserves."
Laurie Willson, RN, works on Samaritan's Critical Decision Unit. She was nominated by a patient who struggled with severe mental health issues. In her nomination letter, the patient expressed her deep gratitude for Laurie's kindness and understanding. She wrote, "Nights are the worst for my anxiety and PTSD, and being she was my night nurse two of my nights, I got to know her well and am beyond grateful for her care, compassion, no judgement, and for going above and beyond to help me feel safe, secure, cared for, and important."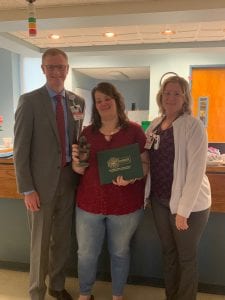 "Congratulations to Angel and Laurie on receiving this recognition," said Chris Jordan, chief nursing officer for Acute Care, St Peter's Health Partners. "Nurses are at the heart of the compassionate, people-centered care we strive to provide every patient. This award shines an important light on all of the great work our nurses do every day."
DAISY is an acronym for Diseases Attacking the Immune System. The family of Patrick Barnes, who died at age 33 of complications of Idiopathic Thrombocytopenic Purpura (ITP), created the DAISY Award to honor his memory and recognize the healing work of the nurses who had cared for him and continue to care for patients everywhere.
There are more than 2,000 health care facilities in all 50 states and 14 other countries, committed to honoring nurses with The DAISY Award.