St. Peter's Radiation Oncology Cuts Ribbon for New Linear Accelerator at Samaritan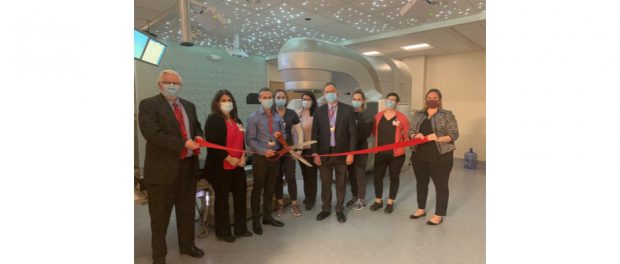 The Radiation Oncology department at Samaritan Hospital is happy to now house a brand new linear accelerator for better cancer care.
A linear accelerator (LINAC) is a device used for external beam radiation treatments for patients with cancer. It delivers high-energy x-rays or electrons to the region of the patient's tumor and is the newest technology that can be offered to patients.
The new equipment includes:
Tru Beam linac  — For treatment delivery, this allows for faster treatment delivery along with more treatment types available to patients.
AlignRT (VisionRT) — Using proprietary 3D stereo camera units, AlignRT Advance tracks the skin surface in real-time and compares it to the ideal position with sub-millimetric accuracy so that radiation is only delivered when the patient is correctly positioned, enhancing patient safety. If the patient moves out of the desired position, AlignRT Advance can automatically signal for the treatment delivery system to pause radiation.
Respiratory Gating (RGSC) — Used to characterize the patient's respiratory patterns and monitor the patient position during diagnostic CT image acquisition. RGSC tracks a marker block that is placed on the patient's abdomen or thorax during CT image acquisition. RGSC then synchronizes the patient's breathing pattern information to CT devices for respiratory gated image acquisition (free breathing or breath-hold techniques). The acquired respiration waveforms and the defined motion management protocols are stored within the treatment management system and then used with treatment planning to assign appropriate motion management protocols to a treatment plan.
New Siemens GO SIM (wide bore-70cm) — Dual Energy and Monoenergic Plus imaging to help improve tissue contrast and target delineation-making it easier to visualize complicated areas.
iMAR –– A metal artifact reduction solution to address those patients with single or double hip prosthesis.
The new equipment also includes an extended field of view matching the size of the CT simulator bore and native patient marking software with automatic drive of movable lasers.
Many kudos to the team for their hard work over the past four years to bring this project to fruition!