LiveSmart: Celebrate Men's Health Week and Father's Day with the Gift of Good Health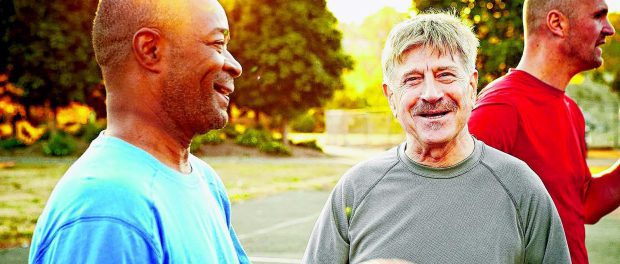 [This story was written by Anne Lawton, RN, a Nationally Certified Tobacco Treatment Professional and community outreach nurse, St. Peter's Health Partners.]
International Men's Health Week kicked off this year on June 14 and culminates on Father's Day this Sunday, June 20. Keeping in good physical condition and being active throughout your lifespan is a gift to yourself, your family and your loved ones.
Prevention is always a good place to start when considering a healthier lifestyle. The American Cancer Society recommends the following ways to stay healthy, while also decreasing your risk for cancer:
Maintain a healthy diet full of vegetables, high-fiber options and limit your intake of red meats, processed food, fatty foods and sugar.
Get exercise on a consistent basis. The American Heart Association recommends that adults get at least 150 minutes per week of moderate aerobic activity. A simple way to remember this goal is thirty minutes a day, five days a week (remember, you can always break it up into 10-minute segments throughout the day).
Maintain a healthy weight.
Don't use tobacco which includes cigarettes, vape, and chew; if you do, speak to your health care team for assistance in stopping.
If you drink alcohol, drink in moderation.
Protect your skin by using sunscreen and wearing protective clothing and a hat.
Stay up to date on all health screenings, including those for cancer.
The U.S. Preventive Services Task Force (USPSTF) sets the standards for all health prevention guidelines, including cancer screenings. The purpose of a cancer screening is to look for disease before a person has any symptoms, thus detecting cancers earlier and increasing the possibility of a cure. Recommended cancer screenings for men include:
Prostate screening involves an annual blood test (PSA) and digital rectal exam. Testing should start by age 55 or earlier for men of color and those with a family history of prostate cancer.
Colon cancer screening guidelines were recently updated by the USPSTF, with recommended screening to begin at age 45, younger for those with a family history. A variety of screening tests are available, so ask your health care provider for their recommendation. Remember: the best test for colorectal cancer is the one you complete.
Lung cancer screening is achieved through a low-dose CT scan for those at high risk. Screening for lung cancer is recommended for people between the ages of 50 and 80 with a long-term smoking history.
Skin cancer screening should occur during your annual exam with your primary care physician, where they will check your skin for any suspicious moles or growths.
Oral cancer screening should occur at least once a year, performed by your dentist as part of regular cleaning and examination.
Give yourself the gift of good health with exercise, eating healthy foods and getting your cancer screenings when they are due. It is never too late to take charge of your health. Happy Men's Health Week!