Sunnyview Rehabilitation Hospital Hosts Adaptive Golf Clinic, Debuts New Paramobile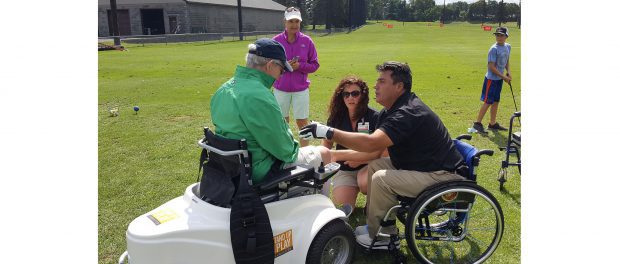 Sunnyview Rehabilitation Hospital hosted an adaptive golf clinic on Wednesday, August 24, and offered current and former patients an opportunity to test drive the hospital's new Paramobile. The Paramobile is a specially-designed wheelchair that not only enhances the user's mobility, but raises the disabled user from a sitting to a standing position, enabling them to be upright for a variety of recreation experiences.
International paragolfer Anthony Netto, who is also the founder of the Stand Up & Play Foundation, was on hand to demonstrate the technology, as well as provide trials for both Sunnyview patients and local disabled golf enthusiasts.
For individuals who are in a wheelchair daily, the act of standing upright has great physical benefits, said Jennifer Battle, CTRS, who leads Sunnyview's adaptive recreational experiences program. Standing upright, with the assistance of devices like the Paramobile, offers users improved circulation and digestion, as well as improved bone density. Additional therapeutic benefits of adaptive recreation experiences for physically limited players include stimulating the metabolism, stretching muscles, and enhancing joint mobility, Battle said.
While designed with golf in mind, the Paramobile has capabilities in a variety of outdoor settings. The Paramobile is all-terrain, offering its users stability and safety to enjoy previous activities and even discover new ones. Others have used the adaptive technology to go fishing, play Frisbee, and enjoy archery. Sunnyview took possession of its first Paramobile on Monday, and Netto and other representatives from the Stand Up & Play Foundation spent two days training Sunnyview therapists and staff on use, care, and maintenance of the device.
The Paramobile was invented by Netto, who is a paraplegic following a gunshot wound in Iraq during military service in 1991, and then injured again in December 1994 in a car accident. Netto collaborated with Otto Bock in Germany to make the Paramobile, founding the Stand Up & Play Foundation in 2010.
The Sunnyview Hospital Foundation has actively partnered with Stand Up & Play to raise $12,000 towards the goal of $25,000 to pay for the new Paramobile. More information on how to support this effort can be found at www.givetosunnyview.org.