Two Samaritan Nurses Honored for Nursing Excellence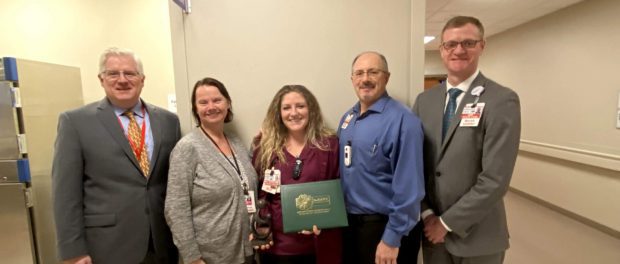 Samaritan Hospital held a ceremony on January 8 to honor two nurses for their exceptional patient care. Hospital leaders presented the prestigious DAISY Award to Bindu Jose, RN, and Kristina Curtis, RN. The award is part of the DAISY Foundation's mission to recognize the exceptional, compassionate care nurses provide patients and families every day.
The daughter of one of Curtis' patients nominated her for the award following her mother's recent stay in the hospital's emergency department and intensive care unit. Curtis advocated for the patient, helping to arrange emergency dialysis.
"Kristina was the angel and blessing we needed when things were stacked against us," wrote the daughter in thanking Curtis for her outstanding, compassionate care. "She went above and beyond her nursing duty to provide great care—the EXACT care that my mom needed—which I was fighting hard to get for her all day."
Bindu Jose was nominated by another Samaritan employee, who fell ill while working on the progressive care unit (PCU). Jose wheeled the employee down to the emergency department, then after finishing her 12-hour shift, stayed with the employee for nearly two hours, offering to help in a myriad of ways, even financially. Her kindness didn't stop there. Jose continued to visit the employee during her six-day admission, making sure she had everything she needed.
"While everyone who took part in my care was extraordinary in compassion, and I wouldn't take anything away from any of them, Bindu's kindness in particular, will always be remembered as a perfect example of Christian charity and what our hospital claims to represent. What a wonderful face of SPHP Bindu showed, and I will always love her for it," wrote the employee/patient.
"Congratulations to Kristina and Bindu on the presentation of this DAISY Award," said Chris Jordan, MHA, RN, CPHQ, acute care chief nursing officer and vice president of patient care services for St. Peter's Health Partners (SPHP). "Both women exemplify the core values of SPHP and the essence and art of nursing practice – high-quality care and extraordinary compassion."
DAISY is an acronym for Diseases Attacking the Immune System. The family of Patrick Barnes, who died at age 33 of complications of Idiopathic Thrombocytopenic Purpura (ITP), created the DAISY Award to honor his memory and recognize the healing work of the nurses who had cared for him and continue to care for patients everywhere.
There are more than 2,000 health care facilities in all 50 states and 14 other countries committed to honoring nurses with The DAISY Award.