Times Union: St. Peter's Seeking Plasma Donations from Recovered COVID-19 Patients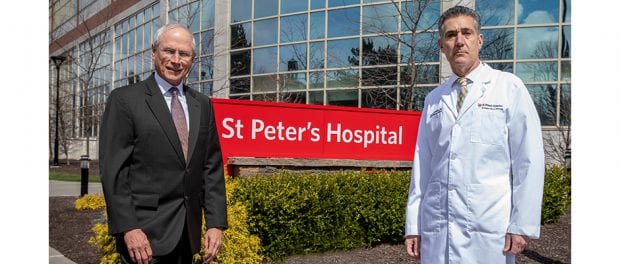 The Times Union did a story about how St. Peter's Health Partners is among the first hospital systems nationwide to receive federal approval for an experimental COVID-19 treatment that involves using the antibody-rich plasma from a recovered person to treat a sick person.
From the article:
At St. Peter's Hospital in Albany, three patients in the intensive care unit have been identified for the treatment. Plasma from a donor in New York City was on its way to the Capital Region on Friday and will be "in hand" in the next few days, the hospital announced.

"Our patients are scared," said Alan Sanders, chief medical officer for SPHP acute care. "Their families are scared. We are just at the beginning of understanding this virus — how it spreads and how it sickens its host. As there is no proven treatment right now, it is critically important that these therapeutic methods are studied, because if administered in the right patient, they can be a ray of hope."

Use of the therapies will be studied as part of a nationwide study overseen by the Mayo Clinic.

"Every day is a good day to help save a life, but we have never needed your help more than right now," said Jennifer Garbaini, assistant medical director and principal investigator for Samaritan Hospital in Troy. "If you can donate, we encourage you to do so and we thank you from the bottom of our hearts."
Click here to read the full article.