Spectrum: Tied With Love – St. Peter's Nurse Soothes Dying Patients With Hand-Tied Blankets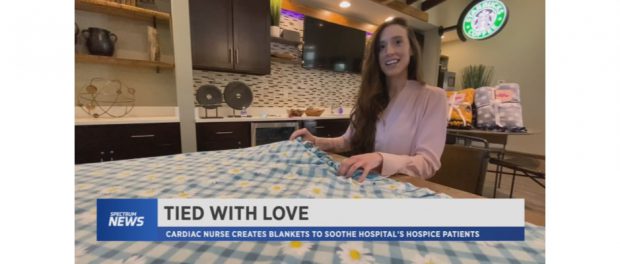 Brianna Bissell, R.N., a nursing supervisor on 4 McAuley at St. Peter's Hospital, was featured in a report on Spectrum News for her project called 'Tied With Love.' Bissell came up with the idea to create the hand-tied blankets as a way to help comfort the hospital's hospice patients and their families.
From the story:
"I love crafts. I find it very therapeutic, especially during the pandemic," Bissell said.

She says this little bit of nightly stress relief has become essential after working as a nurse at Saint Peter's Hospital over the past 12 months.

"As the pandemic got on, everyone was just very fatigued and just kind of holding on by a thread," Bissell said.

Bissell has been a cardiac registered nurse for three years, but says her floor shifted to a COVID-19 unit in the pandemic's early stages, and again during the post-holiday surge.

"We were experiencing a lot of death and a lot of patient loss, patients dying without their families present," she said.

As much as it's helped her process such extreme loss, Bissell says her crafting is truly meant to comfort patients who are facing the end of their lives without their families there to soothe them.

"It's really hard to see patients in their final moments of life be in the hospital without their families there to hold their hands and support them," Bissell said, as she worked on making one of her blankets.

Since January, she's made more than 30 tied, fleece blankets for dying patients in the hospital's hospice units.
Click here to watch Spectrum's story.